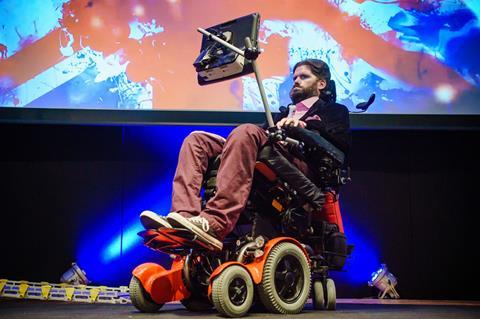 The British Screenwriters' Awards has renamed one of its prizes in honour of late UK writer-director Simon Fitzmaurice.
Formerly the Fucking Awesome award, the Fitzmaurice award 'acknowledges true grit, relentless resilience and thorough action, to unapologetically defy the odds – and that is fucking awesome', according to the ceremony.
The award was originally launched in 2016, with Fitzmaurice its first recipient.
Fitzmaurice was diagnosed with motor neurone disease in 2010, having previously made shorts including Full Circle (2003) and The Sound Of People (2007).
Despite his condition taking away his ability to move, Fitzmaurice wrote and directed his debut feature My Name Is Emily using only eye movements and 'eye gaze' technology in 2015.
Initially given four years to live at diagnosis, Simon lived for eight further years before dying last year aged 42.
"It is an award Simon would be extremely proud to have his name attached to," said Simon's sister Ruth Fitzmaurice.
The award will be presented as part of the sixth British Screenwriters' Awards on September 8 this year. Nominees for best British feature film writing include Rungano Nyoni for I Am Not A Witch, Martin McDonagh for Three Billboards Outside Ebbing, Missouri and Alice Birch for Lady Macbeth; the full list is available on the British Screenwriters' Awards website.