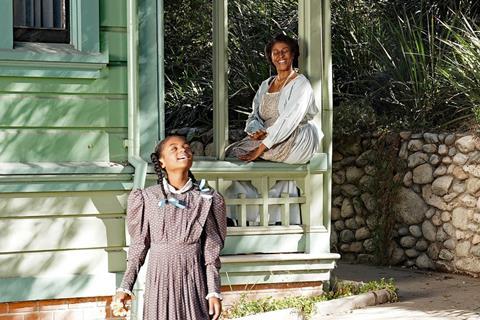 The British Urban Film Festival (Buff) has unveiled nominations for the 2022 awards, to be held at London's Rich Mix on December 2, following the week-long festival.
Remember Me: The Mahalia Jackson Story has received the most nominations. The drama focuses on gospel singer and activist Mahalia Jackson's unsung contribution to the US civil rights movement in the mid-20th century, and her friendship with Martin Luther King. It is directed by the late Denise Dowse, with US musician Ledisi starring as Jackson – a role she previously played in Aya DuVernay's 2014 feature Selma.
Dowse died in August of this year at the age of 64 from viral meningitis.
The title has been nominated for best international film, best soundtrack and best actress for Ledisi.
As previously announced, UK-Nigerian Black Mail filmmaker Obi Emelonye will receive this year's honorary award.
Screen Star of Tomorrow 2022 Adjani Salmon has received a nomination for his short, My Jerome, about a mother grappling with her son's possible guilt in a violent crime case.
Duaine Carma Roberts' Navy was named best feature at the 2021 awards, with the title also scooping the best actress prize for Ophelia J Wisdom.
Buff 2022 awards nominees
Best feature
The Wife And Her House Husband dir. Marcus Markou
Donkey Dust dir. Kit Akinluyi
Four O'Clock Flowers dir. Peter Callow
Pattern dir. Ivan Madeira
Best international film
Remember Me: The Mahalia Jackson Story dir. Denise Dowse
Collision Course dir. Bolanle Austen-Peters
Child Of The Occult dirs. Adesola Sunday Oyin-Adejobi, Isaac Oluwole Olaleye
Best soundtrack
Silent World dir. Charlie Dennis
When The Rain Sets In dir. James Hughes
Wetin Man Go Do dir Lukas Zeickner
Remember Me: The Mahalia Jackson Story dir. Denise Dowse
Best actress
Shin-Fei Chen Dysphoria
Sophie Cartman Four O'Clock Flowers
Kelise Gordon Long Walk Home
Ledisi Remember Me: The Mahalia Jackson Story
Best actor
Nicholas Pinnock Can I Help?
Kelechi Udegbe Collision Course
Wil Johnson The Track
Bally Gill Bus Driver
Best documentary
Buddleia – The Unchained Story dir. Tracy Kiryango
Fenom dir. Kayla Johnson
Hostile dir. Sonita Gale
Black Daddy: The Movie dir. Damon Jamal Taylor
Best short film
My Jerome dir. Adjani Salmon
Dysphoria dir. Yennis Cheung
Fifty Four Days dirs. Cat White, Phoebe Torrance
Puzzled Path dir. Kenneth Ma
Buff 2022 awards winners
Best live script
Helen Alexis Yonov Burden Of Light
Stephen Graham I'm A Gun
Hecham Elhajoui War Criminal
The Buff honorary award recipient
Obi Emelonye