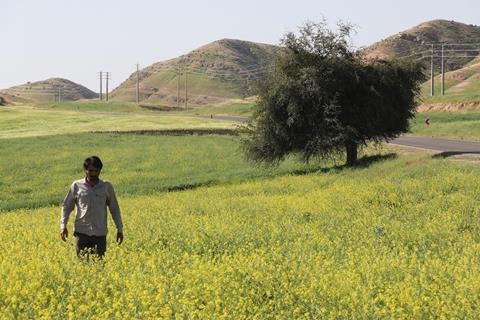 The 27th Busan International Film Festival (BIFF, Oct 5-14) is set to open with the international premiere of Hadi Mohaghegh's Iranian film Scent Of Wind and close with Ishikawa Kei's Venice title A Man.
Hong Kong star Tony Leung Chiu-Wai will also attend the opening ceremony to receive BIFF's Asian Filmmaker of the Year award. The festival will dedicate a six-film showcase dubbed In The Mood For Tony Leung with titles the actor personally selected, including Happy Together, Infernal Affairs and In The Mood For Love.
"This is the first time in three years [since the Covid-19 pandemic started] that we will be normalising to hold a whole intact festival, in terms of quality and quantity," said BIFF festival director Huh Moonyung.
While complying to ongoing safety guidelines such as wearing masks in public places, the festival will open 100% of its seating capacity without social distancing measures. Opening and closing ceremonies as well as parties and events will also be held again as in pre-pandemic years.
BIFF has selected 352 films to screen at this year's edition. Of these, 243 films from 71 countries are in the official selection with 89 world premieres and 13 international premieres. Previously announced features include the New Currents competition lineup of 10 world premieres.
The other 111 films being screened by the festival are in the Community BIFF programme, which includes showcases curated by local audience members, short films made by local residents, and real-time interactive online events with audiences and film professionals in Busan and overseas.
"We have also been able to revive all the Asian cinema support programmes that were put on hold including the Asian Film Academy, Asian Cinema Fund and Platform Busan," said Huh.
Huh unveiled the line-up today (September 7) at a press conference that was originally scheduled to be held in-person in Busan and Seoul yesterday but was postponed and moved online due to safety concerns in the face of Typhoon Hinnamnor, which hit South Korea yesterday. Organisers noted that Busan was relatively unscathed although neighboring regions in the southern part of the country did not fare as well.
The festival will open on 30 screens in seven theatres including BIFF's own Busan Cinema Center, CGV Centum City and Lotte Cinema Daeyoung.
Opening, closing films
Opening film actor-director Mohaghegh won the New Currents Award and Fipresci Prize at BIFF in 2015 with his second film Immortal. He returns with his fourth feature, in which he stars as a disabled man who has to go from town to town to replace a broken electrical part and ends up helping and getting help from a variety of people in difficulties.
"Scent Of Wind shows how the Asian cinema aesthetic represented by Abbas Kiarostami or Hou Hsiao Hsien has been inherited and carried on in the 21st century," said Huh, calling Mohaghegh "a master of the next Asian generation".
The film is also in the inaugural Jiseok competition lineup.
Closing film A Man is the latest from director Kei, whose debut Traces Of Sin was also in Venice Orrizonti. An adaptation of Hirano Keiichiro's award-winning novel of the same title, Japanese film A Man stars Tsumabuki Satoshi as an attorney asked to investigate a woman's dead husband when his estranged brother appears at his funeral and claims he had been living under a false identity. Ando Sakura and Kubota Masataka also star in this mystery film in which the attorney is grappling with the discrimination his own identity as a Korean-Japanese attracts in Japan.
Kei, Tsumabuki and Kubota will be in attendance to present the film.
Other guests at this year's BIFF are set to include Gala Presentation film directors Alain Guiraudie (Nobody's Hero) and Pietro Marcello (Scarlet). Brillante Mendoza will attend with the world premiere of his latest film, Feast, in the Icons section; Davy Chou will bring his Korea-set Return To Seoul in Window on Asian Cinema; actor Lee Byung-hun will give a mastertalk at Community BIFF; Emma Kawawada will present her debut My Small Land in the new Japanese directors showcase; and Miike Takashi will show Connect - the Japanese director's series shot in Korea - in this year's expanded On Screen section for TV and OTT series.
Market matters
Asian Contents and Film Market (ACFM) director Oh Seok Geun emphasised "solidarity and collaboration" as the market's theme this year as he announced "the heads of the Cannes, Berlin and Tokyo markets" will be attending to discuss ways to work together.
Organisers expect more than 1,800 participants from 50 countries this year as the market goes back to physical activities with a minor online component.
Countries opening national stands at the market include the UK, China, Japan, Malaysia, Taiwan, the Philippines and Mongolia. European Film Promotion (EFP) is also set to host more than 30 companies at its umbrella stand.
ACFM previously announced the launch of its first Busan Story Market and this year's Asian Project Market (APM) lineup.