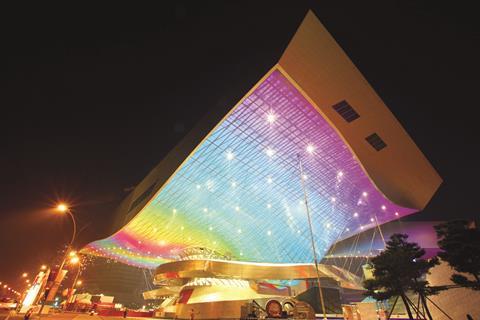 South Korea's Busan International Film Festival (BIFF) is launching its On Screen section which will carry premieres of high-profile drama series that will later be streamed on OTT video platforms.
BIFF, whose 26th edition will be held October 6-15, said the section "aims to precisely reflect the current state of the market, which is expanding multi-directionally, while embracing the extended flow and value of cinema" and should be "able to present more diverse and higher-quality works to the audience, whose range of fandom is expanding".
The inaugural On Screen Section will launch with three selections: Train To Busan director Yeon Sang-ho's Netflix series Hellbound, which will make its Asian premiere at Busan after its world premiere in Toronto; Netflix series Extracurricular director Kim Jin-min's My Name, making its world premiere before launching on the same platform; and HBO Asia original series Forbidden, co-directed by Thai director Anucha Boonyawatana and Korean-American director Josh Kim, making its world premiere.
Hellbound is based on a popular web comic that tells the supernatural stories of people suddenly condemned to hell and the events that lead to the establishment of a religious organisation and people trying to reveal the truth behind all this. Yoo Ah-in, Park Jeong-min, Kim Hyun-joo, Won Jin-a, Yang Ik-june, Kim Do-yoon, Kim Sin-rock, Ryu Kyung-soo, and Lee Re star in the Korean series.
My Name is a Korean action noir series that follows a woman as she infiltrates the police force using another name to reveal the secret of her father's death and take vengeance. Starring Han So-hee, the series also features Park Hee-soon, Ahn Bo-hyun, Kim Sang-ho, Lee Hak-ju, and Jang Yull.
Forbidden will have two episodes premiering at BIFF that were directed by Boonyawatana, who won the Kim Jiseok Award at the festival in 2017. The horror series follows four friends who travel from Bangkok to a remote mountain village for the funeral of one of their fathers. It stars rising Thai actor-singer Kritssanapoom Pibulsonggram.
Other showcases
BIFF also previously announced Best Asian Films by Female Directors, 'Wonder Women Movies', a showcase of the top 10 films voted for by industry professionals. It will include Mira Nair's Cannes Camera d'Or winning debut feature Salaam Bombay! (1988) along with Samira Makhmalbaf's Blackboards (2000), Ann Hui's A Simple Life (2011) and Byun Youngjoo's The Murmuring (1995).
BIFF will also screen New Voices, Chinese Films, a showcase for up-and-coming independent Chinese filmmakers from the past decade. The programme will include Diao Yinan's Golden Bear winner Black Coal, Thin Ice (2014), Bi Gan's Locarno-awarded Kaili Blues (2015) and Zheng Lu Xinyuan's Rotterdam Tiger Award Winner The Cloud In Her Room (2020).
Juries
The festivals has also announced the Kim Jiseok Award will be led by director Reza Mirkarimi who will be joined by critics Gulnara Abikeyeva and Kim Haery. The jury will award $10,000 each to two films making their world premieres and directed by Asian filmmakers.
The BIFF Mecenat Award for best Korean and Asian documentaries will be decided by Academy-nominated Hooligan Sparrow director Wang Nanfu, 2018 Mecenat Award winner Kelvin Kyung Kun Park (ARMY) and Semesta (Islands Of Faith) producer and InDocs director Mandy Marahimin.
The Sonje Award jury for shorts will be made up of festival programmer Bastian Meiresonne and directors Royston Tan (24) and Yoon Danbi (Moving On).
Uhm Junghwa (Haeundae) and Cho Jin-woong (The Handmaiden) will decide the Best Actor and Actress of the Year awards from Korean films in the New Currents and Korean Cinema Today – Vision sections.