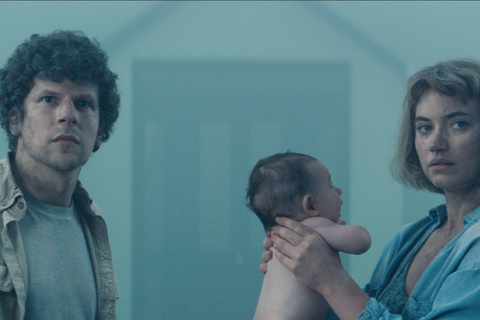 Saban Films has acquired all US rights to Cannes Critics' Week sci-fi thriller Vivarium starring Imogen Poots and Jesse Eisenberg, as XYZ Films announced a raft of international sales.
Irish director Lorcan Finnegan's second film (Without Name) centres on a young parents searching for a first home who get trapped in a mysterious housing development.
XYZ Films served as executive producer and launched global sales on the Croisette. Among the international deals announced so far are: the UK and Ireland (Vertigo Releasing), Australia and New Zealand (Umbrella), Latin America (CDC), France (The Jokers), Scandinavia (NonStop), Italy (Notorious), Spain (A Contracorriente), South Korea (Lumix), Japan (Parco), and Middle East (Falcon).
Rights also went in: CIS (Russian World Vision), Taiwan (MovieCloud), Portugal (Films4You), Singapore (Shaw Renters), Philippines (Pioneer), Greece (Weirdwave), Ukraine (Monumental Pictures / UFD), and pan-Asia pay-TV, SVOD (FOX Networks Group Asia Pacific).
Fantastic Films' Brendan McCarthy and John McDonnell produced Vivarium in association with Lovely Productions, in co-production with Belgium's Frakas Productions, and Denmark's Pingpong Film.
"We are very impressed with Lorcan's elevated genre piece, heightened with the strong-calibre performances of Imogen and Jesse," said Saban Films president Bill Bromiley. "We are looking forward to our audiences seeing this original, smart and offbeat film."
The feature received support from Screen Ireland, Wallimage, the Danish Film Institute, Copenhagen Film Fund and Eurimages, as well as the Creative Europe Media Programme of the European Union, Film4, and Frontières.
Saban Films' Ness Saban brokered the deal with CAA Media Finance and XYZ Films on behalf of the filmmakers.