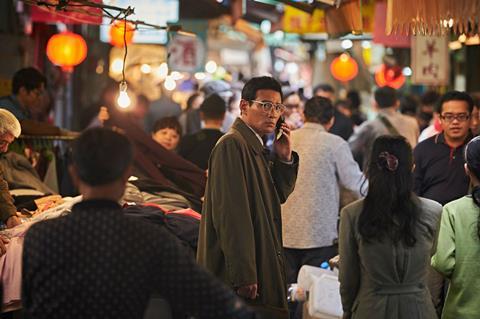 South Korea's CJ Entertainment has sold Yoon Jong-bin's Cannes Midnight Screenings title The Spy Gone North to 111 countries, including UK/Ireland (Signature Entertainment), Japan (Twin) and French-speaking territories (Metropolitan Filmexport).
Based on actual events in the 1990s, the thriller follows a South Korean agent played by Hwang Jung-min (The Battleship Island), who goes undercover as a businessman to North Korea to infiltrate their nuclear facilities, plagued by political machinations from both sides.
The film also stars Lee Sung-min (A Violent Prosecutor), Cho Jin-woong (The Handmaiden) and Ju Ji-hoon (Along With The Gods: The Two Worlds).
It made its world premiere in Cannes and is set to open locally on August 8 with overseas theatrical releases to follow.
Other territories sold include Taiwan (Catchplay), Hong Kong and Macao (Edko Films), Singapore (Clover Films), Spain (La Aventura), Poland (Mayfly), Australia and New Zealand (Cine Asia), Latin America including Brazil and Mexico (Borsalino Films), the Philippines (Viva Communications) and Malaysia (MATV).
Cyril Burkel, head of acquisitions at Metropolitan Filmexport, said: "It is a great spy story that is extraordinarily current. We get to see the relations between South Korea and North Korea in a way that is unique and never seen [before] with a sure direction and extraordinary acting."
Elizabeth Williams, head of acquisitions at Signature Entertainment, said her company was "compelled to get on board" as the film's UK/Ireland distributor after seeing all the buzz and positive reviews at Cannes.