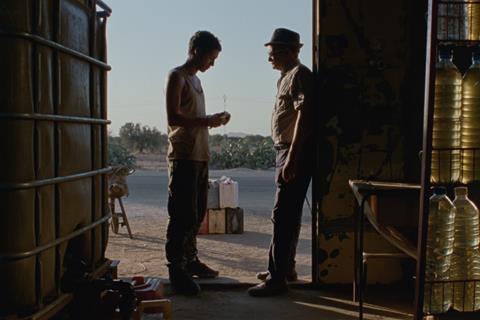 Dulac Distribution has secured French distribution rights for Lotfy Nathan's feature debut Harka, ahead of its Cannes Un Certain Regard world premiere.
The drama was acquired from London and Paris based sales agent Film Constellation, who represents worldwide sales rights, while co-repping North America with CAA.
Screen can exclusively reveal the film's first image above.
Ali is a young Tunisian who dreams of a better life, and makes a living selling contraband gas at the local black market. When his father suddenly dies, he's forced to take charge of his two younger sisters and their impending eviction. The film stars French Tunisian actor Adam Bessa, whose credits include Mosul and Extraction.
Harka is also written by US-Egyptian filmmaker Nathan, who previously directed documentary 12 O'Clock Boys.
It is produced by Julie Viez of Cinenovo (France), alongside Alex Hugues, Riccardo Maddalosso and Eugene Kotlyarenko at Spacemaker (US), Lotfy Nathan, Tariq Merhab, Nicole Romano at Anonymous Content (US) and Maurice Fadida at Kodiak Pictures (US). It is co-produced by Donato Rotunno's Tarantula (Luxembourg), Fabian Gasmia and Leo Merkel's Detailfilm (Germany), Habib Attia's Cinetelefilms (Tunisia) and Benoit Roland's Wrong Men (Belgium), in association with Mac Pac Entertainment (UK) and Film Constellation (UK).
"In Harka, a powerful tale of wrath and love set in post-revolutionary Tunisia, young actor Adam Bessa brilliantly embodies the fight of a whole generation for a decent life," said Michel Zana, head of distribution at Dulac Distribution.
"Filled with references to the best of classic cinema, Harka is an immensely contemporaneous directorial debut, shining a light on stories we rarely see," added producer Julie Viez.