EXCLUSIVE: Musical comedy finds its star. Christian Mercuri to introduce project to international buyers in Toronto.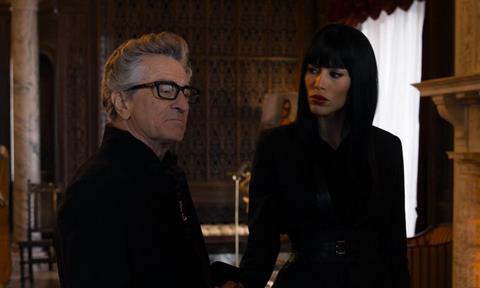 Double Trouble executive producer Christian Mercuri's company Capstone Group has been brought on to handle international rights and will introduce the project to buyers at the upcoming Toronto International Film Festival.
Newcomer Calli Taylor has been chosen to headline the musical comedy following an intensive worldwide search. Scott Clayton's Oceanside Media is producing the feature, while TinRes Entertainment is fully financing.
Written and to be directed by David Grovic, Double Trouble centres on a charismatic young girl with high hopes of becoming a top-billing star and the obstacles she encounters while trying to get a start in the entertainment industry.
Principal photography is scheduled to begin early next year on location in New York. Clayton serves as producer, while David Haring is on board as executive producer alongside Mercuri.
Grovic's film credits include the crime thriller The Bag Man (pictured), starring John Cusack, Robert De Niro, and Crispin Glover. He also produced Dying Of The Light starring Nicolas Cage and Anton Yelchin, directed by Paul Schrader.
"Having spent a considerable period of time searching for the right actress-singer I am delighted to introduce Calli Taylor," Grovic said. "It's been an immensely difficult task to find the perfect talent for our project. For 15 months, our search has covered both sides of the Atlantic. We are incredibly happy to have found such a gifted singer and actress here in Los Angeles."
Mercuri said: "There is a universal story behind Double Trouble about achieving goals and dreams that people in every country and every age group can identify with. The script is a classic Hollywood-dream story that is touching and emotionally engaging coupled with warmth and comedy. We are delighted to offer the film to our international partners."
Clayton added: "Double Trouble brings together stellar creative elements to craft this inspiring story with inventive musical pieces, charm and wit. We were unanimous in casting a fresh face for our lead and are thrilled to discover Calli Taylor. She is a phenomenal talent with an alluring voice and will be the young actress to watch."