Operation Mekong leads again, nears $150m; BFG opens in third.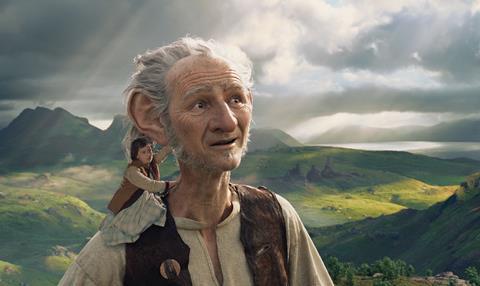 Steven Spielberg's The BFG failed to dethrone Operation Mekong, which retained both the weekend and weekly crowns in the period of Oct 10 – 16. Dante Lam's Golden Triangle-set action thriller was still going strong in its third week with $41.16m, which accounted for approximately 46% of the week's box office.
With a 17-day total of $142.27m, Operation Mekong is expected to hit RMB1 billion ($150m) within this week, which will make it the 14th local film ever in China's history to reach this milestone. This year, three films from Chinese New Year (The Mermaid, The Monkey King 2 and From Vegas To Macau 3) and one from the summer (Time Raiders) have made it.
Another National Day holdover, Zhang Yibai's romantic drama I Belonged To You, remained in second place with $15.34m. It has become the ninth highest grossing local film this year with an 18-day haul of $113.17m.
The highest new entrant went to Disney's effects-laden family fantasy The BFG, which opened in a close third place with $13.54m from its three-day opening weekend.
Wong Jing's action adventure comedy Mission Milano stayed in fourth place with $3.88m for $37.73m after 17 days, ahead of new local war film The Warriors, which opened in fifth with a three-day opening weekend of $3.06m, and Guo Jingming's motion capture animation L.O.R.D.: Legend Of Ravaging Dynasties, which slid to the sixth with $2.80m for $56.39m after 17 days.
Two new foreign releases recorded a photo finish for seventh and eighth places: Russian sci-fi thriller Mafia: Survival Game took $2.45m from its first three days and Paramount's Ben-Hur posted $2.43m from its first seven days.
Rounding out the weekly chart were Studiocanal's family adventure animation Robinson Crusoe with $1.36m for $7.33m after 13 days and Wang Yichun's new local murder mystery What's In The Darkness, which premiered at Berlin this year, with $0.63m from its first three days.
On the heels of the weeklong National Day holidays, ticket sales cooled off significantly, especially when the new releases failed to make much of an impact. Last week's box office dropped approximately 52%.
Upcoming new releases include Mechanic: Resurrection, Jack Reacher: Never Go Back, Heartfall Arises, Escape Route and Dragon Ball Z: Resurrection F, all scheduled on Oct 21.