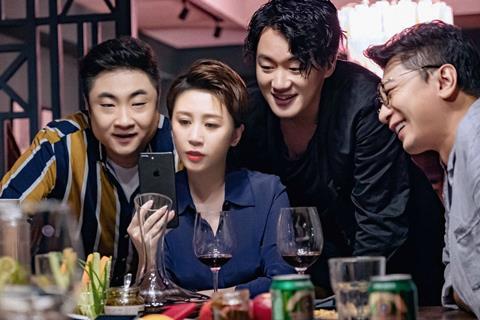 While the Chinese box office in 2018 ended with a bang with a groundbreaking annual milestone of $8.86bn (RMB60.98bn), 2019 failed to get off to a good start when the three-day New Year ticket sales (Dec 30 2018 – Jan 1 2019) plummeted by 21% compared to the same period last year.
Nevertheless, it is still the second highest New Year window period in Chinese history, after last year's astounding success driven mainly by strong local titles such as The Ex-File: The Return Of The Exes and Feng Xiaogang's Youth.
This year, local releases continued to dominate but their performance paled in comparison. Opened on Dec 28, Kill Mobile topped the three-day chart with $41.42m for a five-day total of $53.34m. Adapted from 2016 Italian film Perfect Strangers, the comedy drama is about seven friends who decide to play a game of sharing their messages and calls of their phones. The ensemble cast includes Tong Dawei, Ma Li and Huo Siyan.
In close second place was Kaili Blues director Bi Gan's latest film Long Day's Journey Into Night with $40.12m from its first two days. It scored the strongest opening for a local art film when it took $38.59m on its first day, including over $15m of pre-sales.
Despite being an arthouse fare, it became the most talked-about film among the new releases thanks to its smart marketing which promoted it as the must-see film on the last day of 2018, which was also its opening day. But it took a deep dive to the fifth place on its second day (Jan 1), by over 90% due to generally poor reviews.
After topping the weekly Chinese box office for four straight weeks, Warner Bro's Aquaman remained resilient against the new local releases and came in third with $21.22m for $276.45m after 26 days. It has surpassed Venom to become the second biggest foreign film of 2018, only after Avengers 3.
Sony animation Spider-Man: Into The Spider Verse landed in fourth with $15.26m for a 12-day total of $56.1m; followed by Mojin: The Worm Valley which took $10.17m for a four-day total of $19.62m.
The latter is based on the popular Ghost Blows Out The Light novel series, which was previously adapted into 2015 blockbuster Mojin: The Lost Legend. But the new film has a different director (Fei Xing, not Wu Ershan) and a totally different cast.
This week's wide releases include Bumblebee and Creed 2.