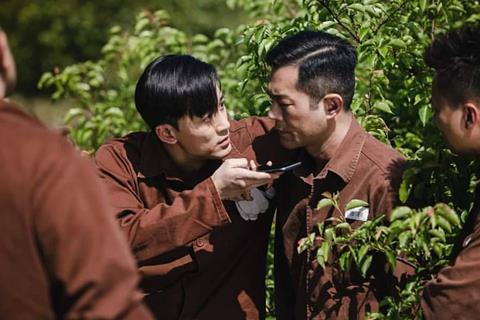 After a brief rebound thanks to the Qingming ('tomb sweeping') long weekend in the first week of April, the Chinese seven-day box office period of April 8-14 shrank by 42% week-on-week. This made it the second quietest week in 2019 so far, behind the pre-Chinese New Year period.
Hong Kong anti-corruption thriller P Storm was the highest-grossing film for the second film with a seven-day gross of $35.1m for a cume of $85.4m to date. The fourth installment of the Storm franchise is the most successful yet. All four have been directed by David Lam and produced by Raymond Wong. and P Storm is poised to outgross 2016's Line Walker to become Hong Kong star Louis Koo's biggest film in China.
In an unexpected move, Bollywood title Andhadhun outgrossed Shazam! in its second week with $15.5m and $28.8m to date. It is now the eighth biggest Indian film of all time in China and unlike previous successful Indian films such as Dangal and Secret Superstar which are both inspirational and heartwarming, Andhadhun is a black comedy, proving how receptive Chinese audiences are to different types of Indian films.
It is about a piano player who may or may not be blind and finds himself at the centre of a murder.
Warner Bros/DC Entertainment's superhero film Shazam! had a soft second week with a gross of $9.3m. It has now grossed $38.6m to date.
Japanese live-action thriller The Crimes That Bind was the biggest new release of the week, taking in $4.3m following its release on Friday April 12. It is the latest book-to-film adaptation of Japanese author Keigo Higashino whose popular novels are often made into films, including Suspect X and Miracles Of The Namiya General Store. both of which have also been made into Chinese-language films.
Chinese high-school drama Song Of Youth remained a key holdover and earned $3.8m this weeek for a gross of $47.2m while Disney's live-action remake Dumbo made $2m for $20m
Rounding out the weekly top 10 were Chinese comedy The Sexy Guys which grossed $1.6m on its first three days; Lou Ye's The Shadow Play on $1.6m for $8.9m after two weeks; animation Tall Tales: The Magical Garden Of Antoon Krings on $900,000 from its first two days; and Chinese actor Guo Tao's directorial debut Desire Game, also on $900,000 from its first three days.
Avengers: Endgame breaks advance ticket sales
Avengers: Endgame opens next week on Wednesday April 24, two days ahead of North America and is looking to give a much-needed jolt to a box office that remains 8% lower in the first three months of 2019 compared to the same period in 2018.
Advance ticket sales for the fourth and final installment of Disney/Marvel Studios' superhero franchise started at 12pm on April 12. It quickly became the fastest film to hit $15m (RMB100m) in 10 hours and smashed a new record for midnight shows in 32 hours.
Advance ticket sales had doubled to $29.9m (RMB200m) by Sunday April 14.
However, Chinese audiences are complaining about the inflated ticket prices for the film which are reportedly 45% higher than even this year's hiked-up Chinese New Year titles. IMAX screenings of the film are understood to be even higher.