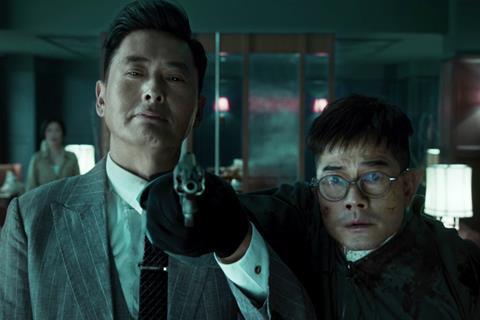 The first week of October (Oct 1-7) is traditionally one of the most lucrative Chinese box office windows, but disappointment looms over this year's National Day holiday.
It collected $277.62m (RMB1.91b) over seven days, down 27.5% from the same period in 2017 (although the holiday lasted eight days last year). This is the second time the National Day holiday recorded negative growth over the last 10 years.
Last year, the first seven days of the holiday period raked in over $43.6m (RMB300m) daily, but only the first two days of this year reached the same level. Nevertheless, the 2018 box office growth is still promising: as of October 4, it has passed $7.27bn (RMB50bn), 47 days earlier than in 2017 and surpassing the total of 2016.
After opening on the same day on Sep 30, the National Day local releases played musical chairs in the next seven days. Felix Chong's Project Gutenberg, starring Chow Yun Fatt and Aaron Kwok, turned out to be a surprise hit.
The Hong Kong crime thriller about counterfeit money moved from the third (on Sep 30) to the second (on Monday, overtaking Shadow) and then to the top (from Tuesday, overtaking Hello, Mrs Money), taking in $89.2m for $96.9m after eight days. It is now the National Day champion so far.
Hello, Mrs Money was the most highly anticipated National Day title thanks to the Mahua FunAge branding which has successfully churned out Goodbye Mr Loser and Never Say Die, the 2015 and 2017 National Day champion respectively.
However, Hello, Mrs Money came in second with $57.9m for $73.1m after eight days. After opening top on Sep 30 by a large margin, the comedy about mistaken identity directed by Wu Yuhan and starring Huang Cailun, both from the original stage play, quickly lost its momentum. It was pushed to second by Project Gutenberg on Tuesday and further to third by Shadow from Thursday onwards. Its Sunday gross dropped by some 76% from its Sep 30 opening day.
Chinese auteur Zhang Yimou's historical epic Shadow with Deng Chao playing two separate roles ranked third with $54.8m for $64.2m after eight days. It opened in second place on Sep 30, but dropped to third on Monday before moving up to second from Thursday. It has earned generally more positive buzz compared to Zhang's last film The Great Wall, the US-China English-language co-production starring Matt Damon.
Actor-turned-director Bao Beier's cop comedy Fat Buddies settled for fourth place with $23.5m for $28.2m after eight days.
Looking at the unpredictable Chinese box office, word of mouth marketing is becoming a powerful way to influence ticket sales. Chinese audiences may have become more discerning, getting better in distinguishing the good from the bad.
Following the epic failure of Asura in July, Renny Harlin's Legend Of The Ancient Sword, starring Wang Leehom and Song Qian, is the next big flop. The fantasy adventure, which received rather poor online ratings, brought in a paltry $1.9m from its first seven days.
The National Day releases will continue to dominate this week's box office.