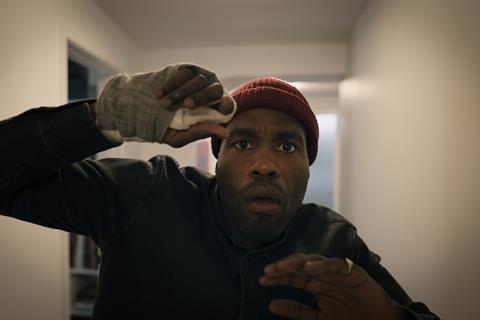 Worldwide Box Office August 27-29 2021
| Rank | Film (Distributor) | 3-day (World) | Cume (World) | 3-day (Int'l) | Cume (Int'l) | Territories |
| --- | --- | --- | --- | --- | --- | --- |
| 1 | Free Guy (Disney) | $50.8m | $179.6m | $37.3m | $100.3m | 48 |
| 2 | Candyman (Universal) | $27.5m | $27.5m | $5.2m | $5.2m | 52 |
| 3 | Paw Patrol: The Movie (Par) | $16.9m | $61.8m | $10.3m | $37.8m | 47 |
| 4 | Raging Fires (various) | $9.3m | $165.4m | $9.3m | $165.2m | 4 |
| 5 | Jungle Cruise (Disney) | $7.7m | $187m | $2.7m | $86.9m | 50 |
Credit: Comscore, all figures estimates
Disney's 'Free Guy' delivers $51m weekend
Disney's Free Guy exhibited strong traction in its holdover markets, both in North America, dropping 27%, and internationally, falling 23% in already opened territories. A fresh opening in China gave a big boost to the overall numbers.
The Ryan Reynolds sci-fi action comedy grossed an estimated $13.6m in North America at the weekend, taking the domestic total to $79.3m. For international, the weekend tally was an estimated $37.3m from 47 territories, bringing the total to $100.3m. Those numbers combine for a $179.6m global total.
Among international markets, China led the way with $23.8m in Free Guy's debut session, according to data gatherer Artisan Gateway. Chinese cinemas have been starved of US studio titles for most of the summer, with the exception of Disney/Pixar's Luca, which opened a week earlier. (See China box office report.)
In already opened international territories, Free Guy was stable across the regions, falling 21% in Latin America, 23% in Europe and 26% in Asia-Pacific. Within the regions, however, there were variations. Strongest holds were in Germany (+10%), Sweden (+8%) and Austria (+6%). Free Guy fell 32% in key market UK/Ireland but still retained the box office top spot there.
In cumulative totals for Free Guy, China now becomes the top international territory, followed by UK/Ireland ($14.4m), Russia/CIS ($8.5m), France ($4.0m), Germany ($3.5m), Japan ($3.4m), Saudi Arabia ($3.2m), Australia ($2.8m), Hong Kong ($2.6m) and South Korea ($2.5m).
As previously reported, Disney notes a range of current restrictions including the need for vaccination passports in France, Italy and Germany); full or semi states of emergency affecting 90% of the Japanese market; several state-wide lockdowns in Australia, and New Zealand locked down; level-4 restrictions in South Korea; and closures in much of south-east Asia. Disney estimates 20% of sites are still closed in China, although the situation is improving.
'Candyman' strongest in home market North America
UPDATED: Universal's Candyman landed in second place in the weekend global rankings with an estimated $27.6m – although there was a big difference between the North American and international contributions to that total.
In North America, the horror sequel was a convincing chart-topper, with a confirmed $22m. For international, Candyman took an estimated $5.3m from 51 markets: $4m from 36 territories distributed by Universal Pictures International, and approximately$1.2m from 15 MGM-distributed countries.
Top international territory was UK/Ireland, where Candyman opened in second place behind Free Guy with a confirmed $1.53m including previews. Second was a tie between Spain and Mexico on $352,000 apiece, followed by Russia/CIS ($341,000) and Germany ($287,000).
Candyman is a direct sequel to the original 1992 film directed by Bernard Rose, and omits that film's two sequels (1995 and 1999) from the chronology. Nia DaCosta directs and co-writes. Jordan Peele co-writes and produces. Yahya Abdul-Mateen II, Teyonah Parris, Nathan Stewart-Jarrett and Colman Domingo lead the cast.
Next major markets to open Candyman are South Korea (September 22) and France (September 29). Japan follows in October.
New openings boost 'Paw Patrol'
Solid holds in existing markets plus eight new openings combined to produce strong international numbers for Paramount's Paw Patrol: The Movie, which took an estimated $10.3m at the weekend, not counting North America. International total is $37.8m from 46 markets opened so far.
Among the new openings, Russia/CIS led the way with an estimated $770,000, followed by a chart-topping $590,000 in Spain, and a second-placed $460,000 in Denmark.
Among the holdovers, the second weekend in Germany delivered a strong $2.1m, just 11% down from the opening session, and holding onto the top spot. France and UK/Ireland added $1.3m and $800,000 respectively in their third weekends. Cumulative totals are $7.9m for UK/Ireland, $6.9m for France and $6.1m for Germany – combining for $20.9m, more than half the international total.
Paw Patrol: The Movie took an estimated $6.6m in North America at the weekend, taking the total there to $24.1m. Global total for the film is $61.9m.
Paw Patrol is based on the Canadian animated TV series, produced by Spin Master Entertainment, and carried in the US by Nickelodeon.
Paw Patrol ranks third in the weekend global box office chart, behind Free Guy and Candyman – but is second for international territories.
'Fast & Furious 9' passes box office milestone
Last Wednesday (August 25) saw Fast & Furious 9 pass $700m in global box office – the first US studio film to achieve that feat in the pandemic era, and the first since Jumanji: The Next Level. The only other title to reach this total in 2020-21 is Chinese film Hi Mom.
The international total for Fast & Furious 9 is now $531.9m, with $172.7m for North America. The numbers combine for $704.7m worldwide.
Top international markets at the weekend were Japan ($1.1m for the fourth weekend) and Italy ($722,000 in its second weekend). Total for Japan is a strong $27.9m, while Italy has produced $4.5m.
F9 is now 93% of the way towards matching 2019 spinoff Hobbs & Shaw's $759m global tally. The film has also achieved 57% of the $1.24bn total for 2017's Fast & Furious 8.
Local hits dominate Italian box office
For the second week in a row, a newly released Italian film has topped the Italian box office. Latest to do so is Vision Distribution's Come Un Gatto In Tangenziale – Ritorno a Coccia di Morto, sequel to comedy hit Come Un Gatto In Tangenziale (aka Like A Cat On A Highway). The original film debuted with $2.3m on the final weekend of 2017, on its way to an $11.1m total.
The follow-up – Like A Cat On A Highway: Return to Coccia di Morto – begins with $1.22m.
Last week's chart topper, Warner Bros' Me Contre Te – Il Mistero Della Scuola, falls to second place, with weekend takings of $939,000, and a total after two weekends of $4.33m.
The rest of the Italian top 10 is dominated by US movies, including Fast & Furious 9, The Suicide Squad, Free Guy, Reminiscence and Candyman.