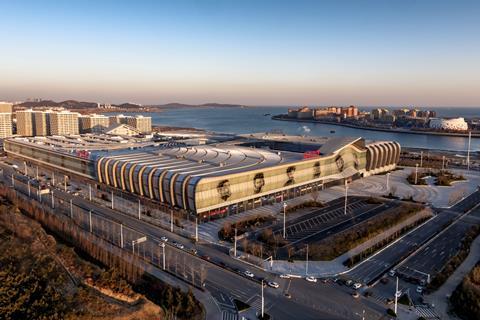 China's Dalian Wanda Group has opened its Qingdao Movie Metropolis, a studio complex in the east of the country that covers more than 400 acres.
The firm has invested $7.9bn (£5.7bn) into the complex in the hope of attracting foreign producers to the country.
They expect to host more than 500 film and TV production companies within three years, with production of around 100 works per year.
Dalian Wanda has promised discounts to foreign film and TV films for using their studio, via a $750m (£613m) fund with the Qingdao government, but so far no Hollywood projects have been announced to use the facilities.
With an inauguration witnessed by figures including Wanda Group chairman Wang Jianlin and CEO of the Academy of Motion Picture Arts and Sciences Dawn Hudson, the Metropolis will include a production zone with 52 high-tech studios, one of which will be the world's largest studio at 10,000 square metres.
There will also be the world's only integrated outdoor and indoor underwater studio, a costumes and props workshop and a post-production workshop. The site will host a 2,000 seat Metropolis Theatre intended for festival ceremonies, and what Wanda describes as "China's largest movie theater" with 30 screens.
A shopping mall, restaurants, an indoor theme park, a selection of four-star resorts and hotels, a hospital and a school are among the other facilities available.
The Metropolis' first studios opened in 2016 and has hosted productions including The Great Wall starring Matt Damon.
It is currently hosting a two-year shoot for the Fengshen Trilogy, an epic fantasy based on a classic Chinese novel with a $473m budget.