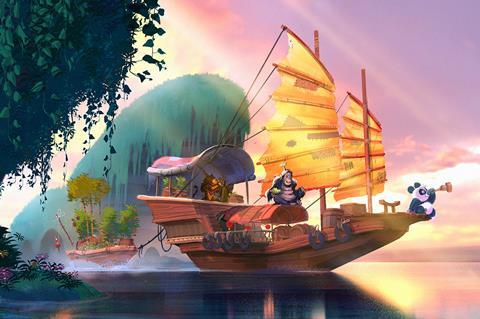 Beverly Hills-based sales agency and independent animation specialist Cinema Management Group (CMG) has announced a raft of pre-sales in Cannes on Panda Bear In Africa produced by regular collaborator Richard Claus.
CMG head Edward Noeltner and his team licensed rights on the Croisette in: Germany, Austria and Switzerland (Palatin Media); Russia, Ukraine and Baltics (Volga Film); Middle East (Front Row); Poland (Kino Swiat); Portugal (Films4You); and Turkey (Filmarti).
Panda Bear In Africa is in production and centres on Ping, a young panda bear in China who takes care of his female dragon friend Jielong when her parents depart for a convention. After Jielong is abducted, Ping embarks on a quest to find his friend that takes him far away to Africa.
Panda Bear In Africa marks the third time CMG and Claus have worked together after The Little Vampire 3D and Ainbo – Spirit Of The Amazon, and the second time with co-producer Anders Mastrup (Checkered Ninja, The Little Vampire 3D). Claus will co-direct with Karsten Kiilerich, with whom he co-directed The Little Vampire 3D.
"We couldn't be happier with the results from Cannes", said Claus. "We've had a great relationship over the past two productions with Edward Noeltner's CMG and we know that we are in good hands with his company and his team."
"Panda Bear In Africa is one of those high concept movies which distributors could relate to right from the opening pitch," said Noeltner. "We are very excited by the prospects of the film's success around the world and if the couple of days we were selling it in Cannes are any indication, the film will continue to lineup great distributors as we go forward into production."