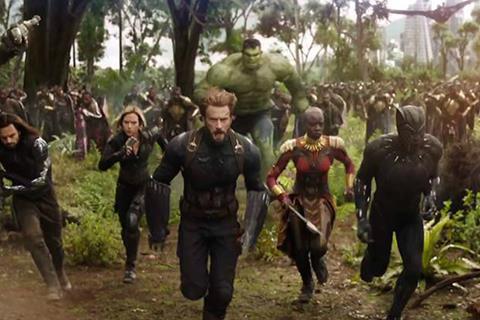 Disney executives treated CinemaCon attendees on Tuesday (April 24) to early footage from its impressive live-action slate encompassing The Nutcracker And The Four Realms, Mary Poppins Returns, and The Lion King.
The session at the Colosseum in Caesars Palace took place without talent appearances and kicked off with a sequence from the imminent worldwide release Avengers: Infinity War.
After Walt Disney Studios chairman Alan Horn delivered the obligatory pledge to exhibitors – "The Walt Disney Company is committed to the theatrical window. Period." – outgoing president of theatrical distribution Dave Hollis offered a potted history of the 10-year career of Marvel Studios and Kevin Feige, whose 18 releases have generated $14.8bn worldwide thus far.
Hollis cued up footage from Avengers: Infinity War, which opens worldwide this week, praised the success of Black Panther, and introduced footage from July 6 release Ant-Man And The Wasp starring Paul Rudd, Evangeline Lilly, Michael Douglas, Michael Peńa, Laurence Fishburne and Michelle Pfeiffer.
Cathleen Taff, Hollis' successor and a 24-Year Disney veteran, took to the stage to take over the presentation and told attendees that production begun last month on Captain Marvel starring Brie Larson. Anna Boden and Ryan Fleck direct and the film will open on March 8, 2019.
Taff showed footage from a superb series of live-action tentpoles culminating with rough footage from Jon Favreau's live-action version of The Lion King, due out on July 19, 2019.
Marc Forster's Christopher Robin opens on August 3 and stars Ewan McGregor and Hayley Atwell, while The Nutcracker And The Four Realms starring Keira Knightley Mackenzie Foy, Helen Mirren, and Morgan Freeman arrives on November 2.
Emily Blunt in Mary Poppins Returns is a December 25 release and also stars Emily Mortimer and Ben Whishaw. Rob Marshall directs. Taff also introduced early footage from Tim Burton's Dumbo (March 29, 2019), and May 24 2019 tentpole Aladdin with Will Smith.
"This really what our strategy is built around," epic stories from the best and brightest talent, built for the big screen."
The animation reel included the opening sequence from June 15 release Incredibles 2, as well as a scene from Ralph Breaks The Internet: Wreck-It Ralph 2 (November 21) featuring an assortment on Disney princesses and winks to the camera that brought the house down.
Taff showed footage from LucasFilm's May 25 tentpole Solo: A Stars Wars Story (Memorial weekend May 25), and reported that J J Abrams was hard at work on December 20 2019 release Star Wars: Episode IX.