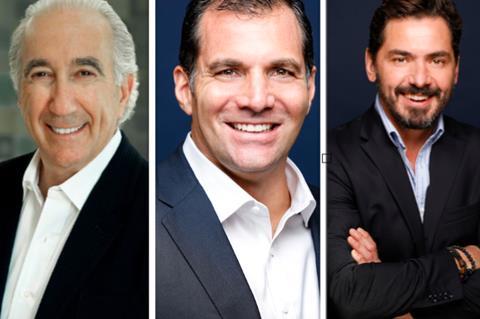 Italian distributor Eagle Pictures and UK-based exhibition powerhouse Cineworld have joined as strategic partners in a venture launched by former MGM chief Gary Barber and Lantern Entertainment.
The freshly minted development, finance and production company Spyglass Media Group has Lantern Entertainment co-presidents Andy Mitchell and Milos Brajovic on board as majority investors, and through the venture will control all Lantern's assets including the film and TV assets purchased in the 2018 bankruptcy of The Weinstein Company.
The 250-plus film titles in the library include the Scream and Hellraiser franchises, as well as Spy Kids, The Hateful Eight, recent $100m hit The Upside, and Silver Linings Playbook. TV properties include Project Runway.
"I am excited to partner with Andy and Milos and am grateful for the support of Eagle and Cineworld, who have shown unwavering commitment as we build this preeminent content company," Barber said. "There could not be a better time to produce compelling and crowd-pleasing content for worldwide distribution across multiple platforms."
Mitchell and Brajovic added, "Gary Barber is the optimal leader and partner for this company and we are grateful to launch Spyglass with our new strategic investors at Eagle and Cineworld. Beyond his day-to-day management, Gary's guidance and expertise will be a fundamental asset for the growth of our company."
Eagle Pictures CEO Andrea Goretti said, "Eagle Pictures and Gary have teamed up on high quality projects for international distribution over the years. It is only fitting that we would expand that relationship and join forces on a strategic partnership for Spyglass. With Gary's incomparable stewardship, the company's valuable library assets, Eagle's strong foothold in Europe and Cineworld's tremendous worldwide footprint, Spyglass is well-positioned to be a prominent global content supplier."
Cineworld Group CEO Mooky Greidinger added, "We are thrilled to enter into a partnership with Spyglass and strengthen our 30 year relationship with Gary. We are proud to be part of this promising venture and are confident of its success."
Moelis & Company LLC served as the exclusive financial advisor in connection with the transaction. Venable LLP acted as a legal advisor for Barber and DLA Piper served as legal advisors for Lantern Entertainment.