Exhibitor's revenue growth fuelled by impressive performance outside the UK.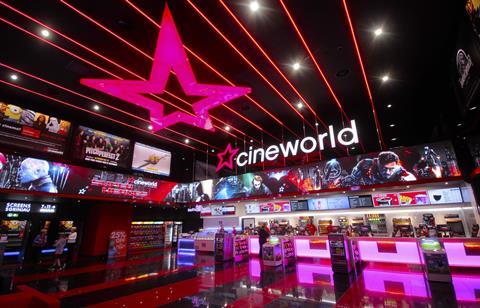 Cineworld has reported strong financial results in 2016, including a rise in profits to £93.8m (after tax), an 18.3% increase on the previous year.
Revenue
Revenue growth for the cinema chain was up 13% to £797.8m, with the key driver non-UK territories.
Rest of the world (ROW) revenue increased by 26.6% in sterling terms (13.3% in local currency), driven by record performances in Poland, Romania, Hungary and Czech Republic combined with a weak pound. The company opened four new sites in ROW territories in 2016.
UK and Ireland revenue in 2016 performed less impressively but growth still sat at 6%, including box office takings growth of 3.9%, compared with 1.45% across the rest of the market. Cineworld opened four new UK sites in 2016.
Total UK revenue rose by £28.1m to £494m in 2016. ROW revenue increased £63.9m year-on-year to £303.8m.
Corporate advisory and institutional broking firm N+1 Singer commented: "The key driver of the FY16 performance was the ROW division which had a cracking year, thereby vindicating the diversified nature of Cineworld's business model. UK progress was relatively muted."
As noted in a report by Barclays on Cineworld's financials, UK business was hampered by a weaker film slate than in 2015. The top three films of 2015 generated £254m of revenue while the top three movies in 2016 generated £149m.
"To still grow UK box office revenues [by 3.9%] is impressive given this backdrop," noted the Barclays report.
They added that the "only mildly disappointing metric" was the cinema chain's net debt, which increased by £37.1m to £282.3m.
Admissions
UK & Ireland admissions were up 1.8% compared to 2016; a notable achievement as admissions in the UK & Ireland cinema industry as a whole were down 2.1% during the same period.
The average ticket price in the UK & Ireland grew by 2% to £6.25.
During 2016 total Cineworld admissions passed 100m for the first time; 100.3m in 2016 compared to 93.6m in 2015. 51.8m were in the UK, 48.3m in ROW.
Last year Cineworld acquired five Empire cinemas including Empire Leicester Square for $124m, introduced five new IMAX screens and also opened eight new sites, four in the UK, four in the ROW.
Promising 2017
The prospects for Cineworld this year are positive, according to asset management specialist Investec's investors report, which noted: "[Cineworld are] well positioned for 2017 with a high-quality estate (with further UK refurb/upgrade potential) and an exciting film slate with a number of dependable sequels. Our industry tracking data suggests UK box office is positive in Jan/Feb (Jan admissions +7% with Feb looking similar)."
This year sees the release of Beauty And The Beast, Fast And Furious 8, Guardians Of The Galaxy Vol. 2 and Star Wars: The Last Jedi.
Barclays also notes that Cineworld management are "assessing new site opportunities and potential acquisitions".
Tony Bloom, chairman of Cineworld commented: "We have an excellent estate which will continue to grow (with a further 13 cinemas due to open), and a number of major refurbishments are planned. Importantly we have a strong Balance Sheet and can undertake our strategic objectives without financial strain."
Read more:
Exclusive: Curzon appoints head of distribution and head of acquisitions