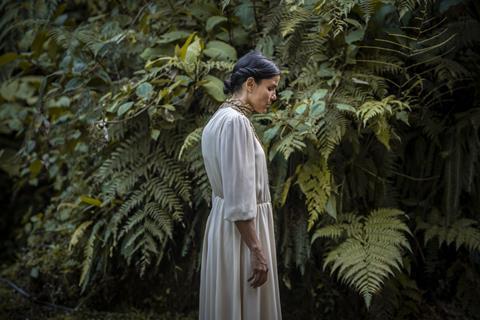 Nathalie Alvarez Mesen's magical realist drama Clara Sola dominated the 2021 Swedish Film Awards - known as the Guldbagge Awards - winning five prizes including best picture.
The film, which debuted in Directors' Fortnight at Cannes 2021, also received best director for Mesen and best screenplay for Mesen and Maria Camila Arias. Further prizes came in best cinematography for Sophie Winqvist Loggins, and best sound design for Erick Vargas Williams, Valene Leroy, Charles De Ville and Aline Gavroy.
Ninja Thyberg's porn industry drama Pleasure won three awards, including best actress for Sofia Kappel; while Hannes Holm's A Christmas Tale also picked up three, including best actor for Jonas Karlsson and best supporting actress for Jennie Silfverhjelm.
Jonas Poher Rasmussen's Danish animated documentary Flee added another prize to its trophy cabinet with best international feature film, following previous wins at the Bifas and European Film Awards.
The Award of Honour went to Swedish writer-director Suzanne Osten.
Mesen's Clara Sola was Costa Rica's submission to the international feature Oscar award, although did not make the shortlist stage. It follows the sexual and mystical awakening of a withdrawn 40-year-old woman in a remote Costa Rican village. The film is a co-production between Sweden, Costa Rica, Belgium, Germany and the US.
Guldbagge 2022 awards
Best film – Clara Sola
Best director – Nathalie Alvarez Mesen, Clara Sola
Best actress in a leading role – Sofia Kappel, Pleasure
Best actor in a leading role – Jonas Karlsson, A Christmas Tale
Best actress in a supporting role – Jennie Silfverhjelm, A Christmas Tale
Best actor in a supporting role – Jonay Pineda Skallak, JJ+E
Best screenplay – Nathalie Alvarez Mesen, Maria Camila Arias, Clara Sola
Best editing – Hanna Lejonqvist, Dino Jonsater, The Most Beautiful Boy In The World
Best cinematography – Sophie Winqvist Loggins, Clara Sola
Best sound design - Erick Vargas Williams, Valene Leroy, Charles De Ville,Aline Gavroy, Clara Sola
Best original score – Lisa Nordstrom, Children of the Enemy
Best visual effects – Alex Hansson, Torbjorn Olsson, The Emigrants
Best costume design – Amanda Wing Yee Lee, Pleasure
Best production design – Michael Higgins, A Christmas Tale
Best makeup – Erica Spetzig, Pleasure
Best documentary film – Sabaya
Best international feature film – Flee
Gullspira for extraordinary contributions in films for children – Johan Hagelback
Award of honour – Suzanne Osten