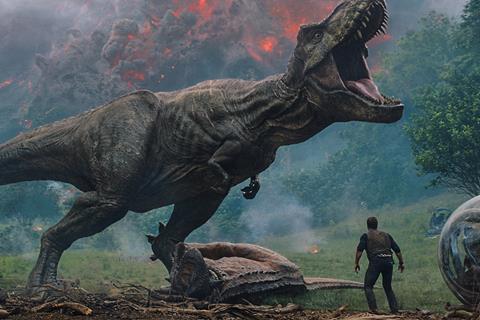 Colin Trevorrow will return to directing on the third instalment of the Jurassic World franchise, recently scheduled by Universal for a June 11, 2021 release.
Trevorrow, who was set to write and take an executive producer role on the project, directed and co-wrote 2015's original Jurassic World – the fourth highest grossing film of all time on $1.67bn in global box office – and is a writer and executive producer on second instalment Jurassic World: Fallen Kingdom.
Directed by J A Bayona, Fallen Kingdom opens in its first international markets on June 6 and in the US on June 22.
Jurassic World 3 is being written by Trevorrow and Emily Carmichael. Trevorrow and franchise godfather Steven Spielberg are the executive producers and Frank Marshall and Pat Crowley will produce.
Spielberg, whose sci-fi adventure Ready Player One opens around the globe this weekend, confirmed that Trevorrow will direct in an interview with Entertainment Weekly.
Trevorrow previously wrote and directed Safety Not Guaranteed and directed The Book Of Henry. He had been set to direct Star Wars: Episode IX, on which he is also a writer, but he was replaced in that role last autumn by J J Abrams.