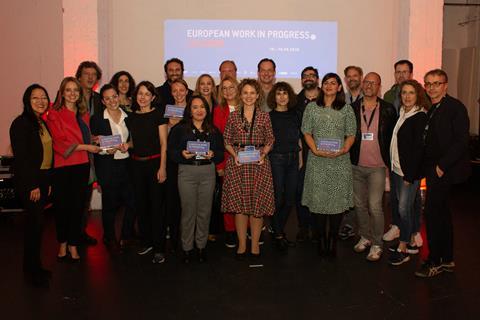 Works in progress from Brazil, Poland, Mexico, Greece and Russia have won awards for the best pitches at the second edition of European Work in Progress (EWIP, October 14-16) during Film Festival Cologne.
The five winners were chosen on Tuesday (15) by an international jury consisting of Locarno Film Festival's new artistic director Lili Hinstin, ZDF Enterprises' director of acquisitions for feature films Margrit Stärk, Albanian producer Sabina Kodra, whose ERAFILM was behind Robert Budina's A Shelter Among The Clouds), and Yohann Comte, co-founder of French sales company Charades.
The awards were presented at the Kunsthaus Rhenania ahead of the NRW Producers Party as part of this week's festival in Germany.
The EWIP ARRI Media Award with €10,000 worth of colour grading services went to first-time director Joao Paulo Miranda's drama Memory House, set in a former Austrian colony in the Brazilian hinterland.
Greek-German Sonia Liza Kenterman's coming-of-old-age story Tailor took home the EWIP LAVAlabs Moving Images Award with €10,000 for visual effects.
The EWIP Eclair Award with €4,000 worth of subtitling a film in two languages was presented to Tatiana Huezo's third feature Night Of Fire, while the EWIP K13-Studios Award offering €10,000 worth of sound mixing services went to the Polish production of Japanese filmmaker Eri Mizutani's documentary, Grace, which is produced by Anna Fam of Polished Productions.
Finally, the Berlin-based PR agency ZOOM Medienfabrik was behind a new prize giving €7,500 worth of PR services for a film's presentation at an international festival. This award was shared between "two promising first films that equally deserve to be rewarded": Philipp Yuryev's The Whale Hunter, to be produced by Alexey Uchitel's Rock Films with Belgian director Marion Hänsel's Man's Films Productions and Poland's Orka Studio Produkcyjne; and dffb graduate Melanie Waelde's coming-of-age tale set in the German sticks Naked Animals, produced by the Berlin-based outfit Czar Film.
A total of 150 projects encompassing 59 countries were submitted for the second edition of EWIP, which expanded its line-up from last year's focus on fiction feature projects to include documentaries and animation.
Selected footage from 23 fiction features, four documentaries and one animation film was shown to a professional audience including representatives from film festivals (including Berlinale, Rotterdam, Tribeca to Edinburgh), to sales companies like m-appeal, MK2, Wild Bunch, Match Factory, EastWest Filmdistribution, and distributors ranging from Frenetic Films, missing films, Farbfilm, Picturehouse Entertainment, mindjazz pictures, and X-Verleih.
This year's line-up of European arthouse work in progress included:
* co-directors Luca Lucchesi and Hella Wenders' freely financed documentary A Black Jesus (working title) which is being produced by Wim Wenders' Road Movies and completed shooting in a Sicilian village on Sunday (13);
* Finnish writer-director Jenni Toivoniemi's ensemble comedy Games Peoples Play, featuring top Finnish and Swedish actors, which has already been picked up by LevelK for world sales and will be released in the Nordic countries by Nordisk Film;
* Chilean director Matias Rojas Valencia's In The Shade Of The Trees, billed as the first Chilean film about the controversial Colonia Dignidad settlement of German immigrants in southern Chile. The production by Don Quijote Films has been co-produced with partners from Germany, France, Argentina and Colombia;
* Michael Weber's Match Factory Productions served as the German partner on Mexican-El Salvadoran filmmaker Tatiana Huezo's Night Of Fire. Backing for the €1.2m production by Nicolas Celis and Jim Stark's Pimienta Films came from Film- und Medienstiftung NRW, ZDF - Das kleine Fernsehspiel, Berlinale World Cinema Fund and Hubert Bals Fund, among others. Match Factory will handle world sales;
* French sales agent Loic Magneron presented his production of Vanya Peirani-Vignes' feature directorial debut, the thriller Blast, shot by Luc Besson's DoP Thierry Arbogast and with a cast including Nora Aenezeder, Pierre Kiwitt and Sara Mortensen;
* German director York-Fabian Raabe's drama Borga, set in electronic waste dumps of Ghanaian capital Accra before moving on to Mannheim in Germany, is produced by Berlin-based Chromosom Film and Stuttgart's East End Film, with distributor Port au Prince Pictures set to handle the German theatrical release;
* Berlin-based world sales company Pluto Film and distributor Neue Visionen are already in place for Serbian director Srdjan Dragojevic's new feature, the dark comedy Heavens Above, and Greek-German filmmaker Sonia Liza Kenterman's feature debut Tailor; and
* Paraguayan-born David Clay Diaz's second feature World's Shortest Poem, a tragicomedy of four interwoven stories focusing on Europe's response to the immigration crisis. Vienna-based coop99 Filmproduktion's Barbara Albert, Bruno Wagner and Antonin Svoboda are producing the €1.5m film.
Looking back at last year's first outing of the EWIP platform, Petra Müller, CEO of the Film- und Medienstiftung NRW, said the results of the 2018 line-up "had already exceeded our expectations". Unconditional received its world premiere on the Piazza Grande in Locarno last August, while Martin Eden premiered in Venice where the lead actor was awarded the Coppa Volpi and the film received the Platform Prize in Toronto.
One of last year's prize-winners, Azeri filmmaker Elmar Imanov's End Of Season, won the FIPRESCI Prize as Best First Film when it screened in Rotterdam, and Tamar Jandali's Easy Love was the opening film of the Berlinale's Perspektive Deutsches Kino last February.
Projects from Italy, Argentina, Germany and UK at 10th Apulia Film Forum
While Cologne's EWIP ramped up for the second edition on Monday (14), the 10th edition of the Apulia Film Forum closed its doors in the Adriatic port of Brindisi at the weekend after presenting 20 feature-length fiction and documentary projects at development stage with at least 30% of the budget secured and plans to shoot entirely or partially in the Apulia region.
The Film Forum was divided into two sections – Italian and Foreign – with the Italian section aimed at audiovisual projects by national producers looking for foreign co-producers, and the Foreign section reserved for projects by producers looking for international co-producers or Italian co-producers.
This year's line-up of Italian projects included Davide Ferrario's The Boys, a story of friendship and personal relationships, to be produced by Lumière & Co; Raz Degan's documentary Lost Shadu about a rebellious Italian rock star from the end of the 1960s who seeks enlightenment with the Shadu monks in India; and Francesco Lopez's docufiction La Meraviglia Del Mondo, about the actor's profession through the example of Riccardo Scamarcio.
Meanwhile, the Foreign section featured NFTS graduate, Edinburgh-based Victoria Thomas' Street Food, which had been selected as part of a partnership with PFM London; Argentinian filmmaker Mercedes Córdova's documentary Mother Dough, telling the story of bread and the social struggle its hides as seen from a gender perspective; Dito Tsintsadze's thriller Roxy, about a German taxi driver whose life changes forever when a Russian gang and their bulldog Roxy cram into his taxi, to be produced by Tommy and Elaine Niessner's East End Film.
Representatives from such companies as Wild Bunch, Arte France, Eurimages, Satine Film Distrubuzione, Tatofilm, Premiere Picture, 42Film, Vertigo Ljubljana and Kinorama also had opportunities to engage in one-to-one meetings with the producers of other projects such as Turkish filmmaker Ümut Köreken's drama A Hope, Ukrainian writer-director-actor-stuntman Viktor Andrilenko's adventure drama Legends Of Charmswood, and Julien Paolini's thriller The Rais Of Palermo.
Films presented at past editions of the Apulia Film Forum that got made and appeared on the international festival circuit have included The High Sun, Umut, and Daybreak.