Michelle Pfeiffer, Laurence Fishburne among cast additions to upcoming tentpoles.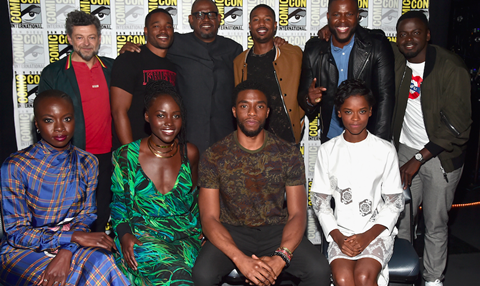 Once again Marvel Studios ruled the film panels at Comic-Con, thrilling Hall H attendees with a star-studded, banter-filled finale on Saturday evening.
Marvel Studios chief Kevin Feige wasted little time firing off a volley of casting news: Michelle Pfeiffer has joined Ant-Man And The Wasp as Janet Van Dyne – mother to Evangeline Lilly's The Wasp and wife of Michael Douglas' Hank Pym. In another big piece of casting, Laurence Fishburne is on board as scientist Bill Foster.
Randall Park will play Agent Jimmy Woo, Hannah John-Kamen is Ghost, and previously announced Walter Goggins Jr was confirmed on the roster.
Ant-Man himself Paul Rudd recorded a witty run-down of Marvel Studios' first nine years with Ant-Man co-star Michael Pena. Early rough footage from Ant-Man And The Wasp showed Evangeline Lilly in action as The Wasp and drew the first of many wild responses from the crowd. The film opens on July 6, 2018.
Next, Feige showed artwork from Captain Marvel showing lead actor Brie Larson in costume. It emerged that Samuel Jackson as Nick Fury boasts two eyes in the film because it takes place in the early 1990s before events in Iron Man.
Villains were revealed to be the Scrulls – green-faced ne'er-do-wells who mean business. Captain Marvel is set to open in March 8, 2019.
Chris Hemsworth joined his Thor: Ragnarok director Taika Waiti ahead of the November 3 release to thump the tubs for the release. The New Zealander and his Australian star enjoyed some banter and were joined by Comic-Con deity Tom Hiddleston as Loki, Mark Ruffalo as Hulk, and fellow Antipodeans Cate Blanchett as the evil Hela and Karl Urban as Skurge.
Tessa Thompson and Waititi frequent collaborator Rachel House also appeared on stage. Hemsworth said he had been eager to see the God of Thunder in a new light and warned this would be a Thor audiences had not yet seen. "Cut his hair, broke his hammer, change his world – that's what you're gong to see."
Waititi introduced footage from the film, in which a lone-wolf Thor finds himself at the mercy of Jeff Goldblum's Grand Master, who organises a mighty gladiatorial contest with Hulk. The crowd also saw for the first time a giant rock creature known as Korg, voiced by Waititi. Thor: Ragnarok opens on November 3.
Ryan Coogler brought on his cast from Black Panther, which opens on February 16, 2018, and showed a stunning sequence of footage involving gadgetry and combat that drew a standing ovation from attendees.
Cast included star Chadwick Boseman, Lupita Nyong'o, Michael B. Jordan, Forest Whitaker, Get Out's Daniel Kaluuya, Andy Serkis, Danai Gurira, Letitia Wright, and Winston Duke.
True to form, there was one final piece of theatrics. Feige made as if to leave at the end before he was stopped in his tracks byHemsworth, Hiddleston, Boseman, Ruffalo, and co-director Anthony Russo. "There's no way in hell we're not going to show you footage," Russo yelled to huge cheers.
That teed up the raucous finale as the crowd was treated to something that screened last weekend at the D23 event in Anaheim, southern California. – the apocalyptic all-star trailer for Avengers: Infinity War. The film will mark 10 years of Marvel Studios when it opens on May 4, 2018.