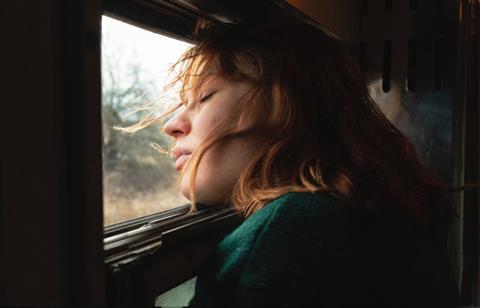 Finnish director Juho Kousmanen's Compartment No. 6 has won the best international prize at the Jerusalem Film Festival (JFF), with Hadas Ben-Aroya's All Eyes Off Me and Tom Shoval's Shake Your Cares Away sharing the award for best Israeli film.
The awards will be presented in-person before selected screenings tonight and tomorrow (September 2-3), with the total sum of the awards at this year's festival approximately 1,000,000 ILS ($311,500).
Compartment No. 6 premiered in competition at Cannes and is about a Finnish woman and a Russian man as they become unlikely travelling companions on a train journey from Moscow to Murmansk. The jury described the film as "entertaining, clever, and remarkably endearing. This is free cinema, released from confinements."
All Eyes Off Me is Ben-Aroya's second feature and premiered at the Berlin International Film Festival. It examines the sexual exploration and struggles with intimacy of a group of young Israelis. The jury praised the film for its "innovative structure, sharp dialogue and unique worldview". It also won a best actress award for Elisheva Weil.
Shake Your Cares Away tells the story of a young woman from a wealthy family who begins to volunteer at a soup kitchen. Shoval's film is the festival's biggest winner, also being awarded the best cinematography and best original score prizes.
The jury said: "Tom Shoval's challenging film straddles between fantasy and reality. Through this unusual and profound social allegory, the filmmaker offers a sharp observation of Israel's complex reality with a gaze that is both sobering and ironic."
Cannes premiere Black Notebooks – a love letter from director Shlomi Elkabetz to his late sister, actor and director Ronit Elkabetz has also had a successful festival. The documentary has won two awards – best documentary and best editing – in the Israeli documentary competition.
JFF opened on August 24 with a screening of Ari Folman's animated title Where Is Anne Frank. It ends on September 4 and, this year, will have no closing film.
JFF 2021 winners
International competitions
Best international film – Compartment No. 6 (special mention: Flee)
Best first feature – El Planeta
Best documentary – Babi Yar. Context
In The Spirit Of Freedom award for best feature – Unclenching The Fists
In The Spirit Of Freedom award for best documentary – From Where They Stood
Israeli competition
Best Israeli feature (ex aequo) – All Eyes Off Me and Shake Your Cares Away
Best Israeli first feature – Cinema Sabaya
Best screenplay – Pini Tavger, More Than I Deserve
Best actor – Omer Perelman Striks, The Swimmer (special mention: Yuval Auron, Take the 'A' Train)
Best actress – Elisheva Weil, All Eyes Off Me
Best cinematography – Daniel Miller, Ziv Berkovitch Shake Your Cares Away
Best original score – Asher Goldschmidt, Shake Your Cares Away
Israeli documentary competition
Best documentary – Black Notebooks
Best director – Vanessa Lapa, Speer Goes To Hollywood
Best editing – Joelle Alexis, Black Notebooks (special mention: #Schoolyard: An Untold Story