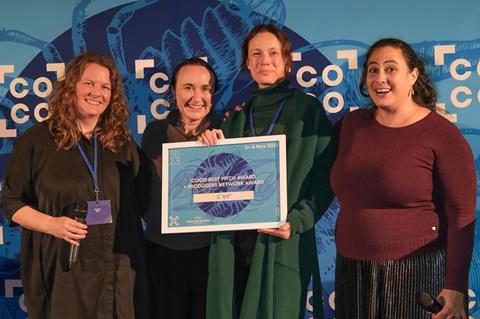 Polish filmmaker Agnieszka Zwiefka and producer Izabela Igel (Harine Films) have won the €1,500 best pitch award for She at East-West co-production market connecting cottbus (coco), which took place during Germany's FilmFestival Cottbus as a hybrid event from 3-5 November.
She will be Zwiefka's first fiction feature following documentaries The Queen Of Silence and Scars. The project already has Jowita Budnik, star of films by Krzysztof Krauze and Joanna Kos-Krauze, attached as the lead actress and co-author of the script, which focuses on an invisible 50-year-old woman whose perfectly organised life is turned upside down when her favourite tree is felled. German producer Heino Deckert of ma.ja.de has boarded as co-producer on project, which was also presented at Polish Days in Wroclaw earlier this year.
The Avanpost Pitch Packaging Award went to Ukrainian period drama Ortalan by director Nariman Aliev and producer Anna Sobolevska (ForeFilms). The prize includes in-kind services worth up to €15,000.
The jury consisted of commissioning editor Daniela Adomat (MDR), Romanian producer Anamaria Antoci (Tangaj Production) and sales agent Marie-Pierre Vallé (Wild Bunch).
The HAVC Project Development Award to the Croatian project Virgins by director Dora Šustić and producer Maja Pek-Brünjes (Antitalent).
The MIDPOINT awards, offering script consultancies to three coco projects, went to She, Romania's The Ways We Look At The Sun directed by Ioana Țurcan, and Slovakia's The White Mare from Slovakia from director Teodor Kuhn.
The cocoPITCH selection included 14 feature projects this year, whilst six works in progress from the region were also presented at the event's East-West market (cocoWIP).
Of these, the D-Facto Motion WIP Award of €35,000 in-kind services plus €5,000 for additional expenses went to the Czech project The Word by Beata Parkanová.
This edition of connecting cottbus was the first to be held as a hybrid event, after the market had to be organised completely online last year due to the pandemic.