The ceremony broadcast was banned in mainland China, reportedly due to the nomination of the politically-charged dystopian drama.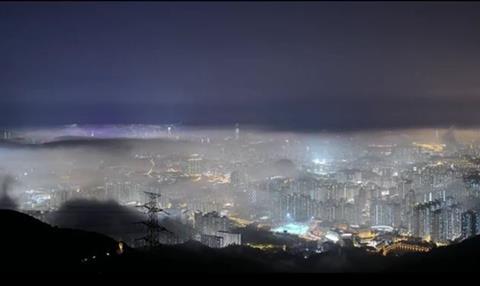 Scroll down for the full list
Port Of Call emerged as a big winner with seven prizes from the 35th Hong Kong Film Awards, while controversial local independent production Ten Years was declared best film and The Taking Of Tiger Mountain's Tsui Hark took best director.
Port Of Call, which came into the night with the most nominations at 13, pulled off a clean sweep of all the acting prizes: best actor for Aaron Kwok (his first HKFA win), best actress for newcomer Jessie Li, best supporting actress for Elaine Jin, as well as best new performer and best supporting actor, both of which for Michael Ning.
The crime thriller also won best screenplay for writer-director Philip Yung and best cinematography for Christopher Doyle.
However, the biggest award of the evening went to Ten Years, which beat heavyweights Port Of Call, Ip Man 3, Little Big Master and The Taking Of Tiger Mountain for best film. Producers Andrew Choi and Ng Ka Leung (who is also one of the five directors) were on hand to receive the top honour from HKFA chairman Derek Yee.
The low-budget omnibus film was a surprise hit in Hong Kong, with a box office of more than $770k (HK$6m) after 58 days on a limited release. But it has raised the eyebrows of the mainland Chinese authorities for its portrayal of a dystopian Hong Kong under tight Chinese rule in the year 2025.
Following the broadcast ban of the HKFA ceremony in China reportedly due to Ten Years' nomination, news of its best film win is censored in mainland media, with no mention of the film from any list of the awards' winners.
Live action-CG hybrid Monster Hunt grabbed three nods, including new director for Raman Hui, visual effects and costume/make up design.
Action epic The Taking Of Tiger Mountain also scored best sound design, in addition to best director for Tsui.
The only other film to win multiple awards was Johnnie To's musical Office, which walked away with art direction and original film score.
Actor Lau Ching Wan, a two-time HKFA best actor winner, hosted the awards ceremony for the first time, which was held at the Hong Kong Cultural Centre in Tsim Sha Tsui last night (Sunday).
Full list of winners:
Best New Performer: Michael Ning, Port Of Call
Best New Director: Raman Hui, Monster Hunt
Best Cinematography: Christopher Doyle, Port Of Call
Best Film Editing: Cheung Ka Fai, Ip Man 3
Best Art Direction: William Chang, Yau Wai Ming, Office
Best Costume and Make Up Design: Yee Chung Man, Monster Hunt
Professional Achievement Award: Chow Wing Kwong
Best Visual Effects: Jason Snell, Ellen Poon, Tang Bingbing, Monster Hunt
Best Sound Design: Kinson Tsang, George Lee, Yiu Chun Hin, The Taking Of Tiger Mountain
Best Supporting Actress: Elaine Jin, Port Of Call
Lifetime Achievement Award: Li Lihua
Best Original Film Score: Dayu Lo, Chan Fai Young, Office
Best Original Film Song: We Almost Fly, She Remembers, He Forgets
Best Film From the Mainland and Taiwan: The Assassin
Best Supporting Actor: Michael Ning, Port Of Call
Best Screenplay: Philip Yung, Port Of Call
Best Action Choreography: Li Chung Chi, SPL 2: A Time For Consequences
Best Director: Tsui Hark, The Taking Of Tiger Mountain
Best Actress: Jessie Li, Port Of Call
Best Actor: Aaron Kwok, Port Of Call
Best Film: Ten Years