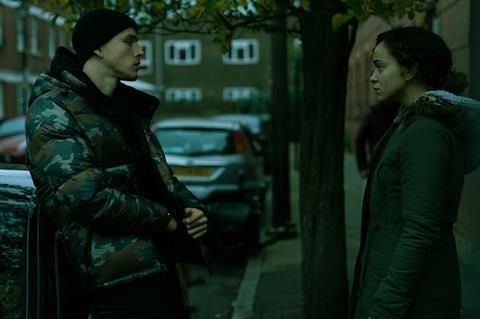 UK writer-director Henry Blake has wrapped principal photography on his debut feature County Lines, starring Harris Dickinson, Ashley Madekwe and Conrad Khan.

Screen can exclusively reveal the first image here of Dickinson (a Screen UK & Ireland Star of Tomorrow 2017) and Madekwe.
County Lines is about a young mother, played by Madekwe, fighting to save her 14-year-old son (Khan) from being groomed into a nationwide drug selling enterprise. Dickinson (Beach Rats, TV's Trust) plays a gang recruiter who exploits vulnerable children and traffics them across the UK's county lines.
The film shot on location in London and Canvey Island, Essex, and is produced by Victoria Bavister for Two Birds Entertainment and David Broder for Loupe Films. The latter's credits include Polly Steele's Let Me Go. Loupe Films is also financing alongside Dam Films.
Christopher Granier-Deferre (Lady Macbeth, Gone Too Far) is the executive producer.
The team is in discussions now with international sales companies and UK distributors.
Blake wrote the original script based on his first-hand experience as a youth worker. He first explored the themes, including how urban gangs are moving into more rural locations, in a 21-minute short film of the same name, which will play in competition at the 2019 London Short Film Festival.
"I've seen the devastating results of this scourge up close," Blake explained. "The tragedy is this can affect absolutely anyone and that's what I wanted to explore here. These are often good kids being bullied, cajoled and lured into doing things no one should ever have to do".
Bavister, who previously worked in development at Simon Curtis' 39 Steps Entertainment, said: "Estimates put the number of children in London being exploited as high as 4,000, with numbers nationwide around 46,000 and whilst often perceived as targeting children in social care or trapped in poverty, the reality, as a recent article in The Guardian points out, is that children from affluent homes are just as likely to be groomed as they are less likely to be stopped by the police."
Blake previously directed other shorts including Gus & Son, Once Removed, The Boxer, Addi & Chess and Snake Pit.