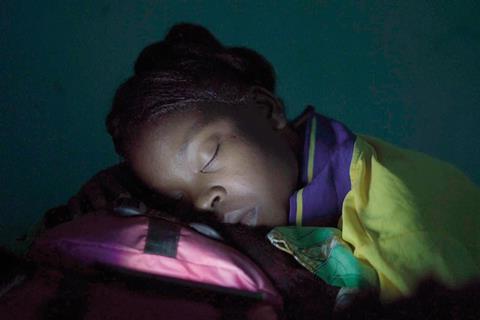 Ousmane Samassekou's The Last Shelter has won the top prize at Copenhagen International Documentary Festival (CPH:DOX), which announced its competition and industry winners in an online ceremony on Friday evening (April 30).
The African documentary, which centres on a refuge for travellers on the edge of Mali's Sahel desert, was awarded the top Dox:Award at the festival, which has run virtually from April 21 but is set to physically screen films when cinemas reopen in Denmark on May 6.
Full list of winners below
Directed by Malian filmmaker Samassekou, The Last Shelter is a Mali-France-South Africa co-production that received its world premiere at CPH:DOX prior to the North American debut at the online Hot Docs, which kicked off on Thursday, and is sold by South African non-profit organisation Steps.
A special mention went to Our Memory Belongs To Us, co-directed by Rami Farah and Signe Byrge Sørensen, the two-time Oscar-nominated Danish producer of The Act Of Killing and The Look Of Silence.
The festival's only industry prize – the Eurimages Co-Production Development Award of €20,000 ($24,000) – went to Tata/Father, the next project from Romania's Radu Ciorniciuc, whose widely lauded Acasa, My Home won the cinematography award when it premiered at Sundance 2020.
The upcoming film, co-directed by Acasa screenwriter Lina Vdovîi, is told from a first-person perspective of a young journalist who returns to Moldova to confront her abusive father, only to learn that he is being violently abused by his employer in Italy. The Romania-Italy-Germany co-production is produced by Monica Lăzurean-Gorganas at Bucharest-based Manifest Film.
Further prizes in the festival's competition strands saw the F:act Award go to When A City Rises, which follows young activists from the recent Hong Kong protests, and was directed by Han Yan Yuen, Cathy Chu, Iris Kwong, Ip Kar Man, Huang Yuk-kwok, Jenn Lee and Evie Cheung.
The Nordic:Dox Award went to Nina Hobert's Julia&I, a Sweden-Denmark co-production about a friendship between two women, filmed across four intense years of their lives. You And I, by Indonesia's Fanny Chotimah, is another film about a relationship between two women – who are in their 70s – and won the Next:Wave Award.
The New: Vision Award went to All Of Your Stars Are But Dust On My Shoes by Beirut-based artist Haig Aivazian, while the Politiken Danish:Dox Award was won by Denmark's Frigge Fri for Dark Blossom, another Hot Docs selection, in which a friendship between three young Goths is threatened when one falls in love.
All will receive physical screenings when cinemas in the Danish capital reopen next week, with local filmmaker Fri set to introduce her feature in person. The festival will screen a total of 120 films from May 6-12, including all 64 competition titles and all Danish features.
Festival heads reflect on virtual edition
The 18th edition of the festival marks the final one for CPH:DOX CEO Tine Fischer, who founded the documentary event in 2003 and oversaw growth from 12,000 admissions in its first year to a record-breaking 114,400 in 2019. Fischer was determined to bring back physical elements before departing for her new role as the director of the National Film School of Denmark and pushed the dates back from March to April.
Speaking to Screen, Fischer said she felt "insecure" that audiences would attend a virtual festival after a year of streaming films at home, coupled with great weather and the reopening of bars and restaurants on April 21 – the first day of CPH:DOX 2021.
"But we have been positively surprised with the box office so far," said Fischer. "We don't have exact numbers yet but we're at half of the total number from last year and there is more to come. We are feeling optimistic and looking forward to opening in cinemas next week."
The festival CEO said she expected at least 30 Danish directors to attend introductions and Q&As of their films and added that "international filmmakers are so happy – even though they're not here – that their films are actually going to be screened in cinemas".
Uncertainty remains over the exact restrictions that will be in place but social distancing of one metre is expected, meaning one seat between each person, which translates to 50% cinema capacity.
Fischer also confirmed her last day at the festival would be this Sunday (May 2) and would begin her new role on Monday, "so next week will be crazy".
Katrine Kiilgaard, CPH:DOX's deputy director and head of industry and training, also said she had been "very nervous" about this year's CPH:Forum, in which filmmaking teams submitted pre-recorded pitches for the first time – filming themselves and others to communicate the tone and message of their films.
"It was an experiment but, I have to say, they went super above my expectations," said Kiilgaard. "I'm so happy we gave these filmmakers the freedom in how to present their pitches as it was so much more interesting to follow and became and much more diverse and collective experience."
The industry head confirmed that several hundred decision makers and pitch observers attended, which not only matched previous years but also involved a more diverse delegate list, due to attendees not having to travel from the likes of Africa or Asia. A total of around 900 one-to-one meetings were also scheduled between project teams and decision makers, matching last year.
"When the festival started, back in 2003, it was a major ambition to push the notion of how we speak about non-fiction filmmaking and cinema," added Fischer. "This type of film is very much made for the theatrical experience… When Denmark reopened cinemas in June last year, people were running to cinemas. We're hoping for the same reaction next week."
CPH:DOX 2021 Winners
Dox:Award
The Last Shelter (Mali-Fr-S Afr)
Dir: Ousmane Samassekou
Special Mention
Our Memory Belongs To Us (Syr-Den-Fr-Pal)
Dirs: Rami Farah, Signe Byrge Sørensen
F:act Award
When A City Rises (HK)
Dirs: Han Yan Yuen, Cathy Chu, Iris Kwong, Ip Kar Man, Huang Yuk-kwok, Jenn Lee, Evie Cheung
Special Mention
All Light, Everywhere (US)
Dir: Theo Anthony
Nordic:Dox Award
Julia&I (Swe-Den)
Dir: Nina Hobert
Special Mention
He's My Brother (Den-Nor)
Dir: Cille Hannibal / co-dir. Christine Hanberg
New:Vision Award
All Of Your Stars Are But Dust On My Shoes (Leb)
Dir: Haig Aivazian
Special Mention
Listen To The Beats Of Our Images (French Guiana-Fr)
Dirs: Maxime Jean-Baptiste, Audrey Jean-Baptiste
Next:Wave Award
You And I (Indo)
Dir: Fanny Chotimah
Special Mention
Holgut (Bel)
Dir: Liesbeth de Ceulaer
Politiken Danish:Dox Award
Dark Blossom (Den)
Dir: Frigge Fri
Eurimages Co-Production Development Award
Tata/Father (Rom-It-Ger)
Dirs: Radu Ciorniciuc, Lina Vdovîi
DR Talent Award
Artist Manager (Den)
Dir: Kirstine Holmen