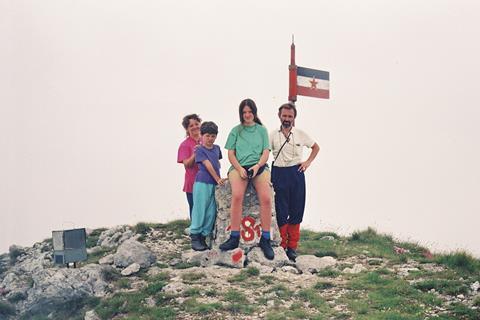 Natasa Urban's The Eclipse, a personal look at the dark past of ex-Yugoslavia, has won the main Dox:Award prize at the 2022 Copenhagen International Documentary Film Festival (CPH:DOX).
The film, which had its world premiere at CPH:DOX on March 28, sees Urban turn her analogue film camera on her family in ex-Yugoslavia, looking at how a dark past remains embedded in the present.
Scroll down for the full list of winners
Following what it called "a unanimous decision", the jury described "a film that affirms a vocation for the moving image in a time of crisis. The director dares to look in the mirror of a troubled present and reckon with the ghosts of a bloody past, arguing that historical amnesia is a burden carried across generations."
The Eclipse is produced by Ingvil Giske for Norway's Medieoperatorene, with UK-based firm Taskovski Films handling worldwide sales.
The F:act Award went to Lena Karbe's German-French co-production Black Mambas, about an all-female South African group who fight against poachers, and for women's liberation and empowerment.
The jury reported that "with brilliant cinematography and an intimate eye for nuance we get to experience what sacrifices it takes for a woman to feed a family – we partake in the dream of becoming a decolonized body."
A F:act special mention went to Alex Pritz's The Territory about Brazilian indigenous farmers, which previously won the World Cinema – Documentary Audience Award and Documentary Craft Special Jury Award at Sundance this year.
In the Nordic:Dox section, Ivalo Frank's Denmark-Greenland co-production The Last Human picked up the main prize, with the jury noting "a singular film that dares to assemble a multitude of styles into a collage of image and thought." A special mention went to Kasper Kiertzner's Tsumu – Where Do You Go With Your Dreams.
Trinh Minh-ha's What About China, a US-China co-production, received the New:Vision award, with the jury remarking on "a lucidity that assumes a contemporaneity without insistence." Bassem Saad's Lebanese film Congress Of Idling Persons received a special mention in the same section.
Yesterday (Thursday), Biljana Tutorov and Petar Glomazic's Serbian documentary The Last Nomads received the €20,000 Eurimages Co-Production Development Award.
Currently in development and looking for €624,000 funding, the film depicts how violence against women echoes in violence against nature, through mother and daughter who defend their land against becoming a military polygon.
The jury noted "a project which brings us to a place we didn't know existed, a place of striking beauty and importance to humanity."
The award-winning films are available for Danish audiences on the CPH:DOX streaming platform until April 10; and will be screened in cinemas in Copenhagen on April 5.
"It's great to be back"
This year's festival has been the first in-person edition since 2019, with both of the last two years moved online at short notice. Stefan Kloos, managing director of German sales outfit Rise and Shine was among the international industry executives who travelled to Copenhagen.
"CPH:DOX managed to really attract a North American audience to come, to recognise a really big mix of European and US films," said Kloos of the event. "The way they've built their competitions is really smart."
Filmmakers and execs also flew over from the US for CNN Films' Navalny, also in the DOX:Award; plus Disney Original Documentary's Mija in the Sound & Vision strand; and Netflix's Descendant as a Special Premieres title.
"It's great to be back, and to see people in person," said Berlin-based Kloos, who flew for the first time in 26 months to attend the festival. "We've been pitching, listening to pitches and doing one-on-ones so much online, which is pretty effective; but we're missing the hugs."
Some 427 industry guests are attending this year's festival on-site. The Forum events for industry professionals at CPH:DOX have been well-attended, with two sittings required at the daily lunches, overflow rooms for the evening social mixers, and multiple boat trips needed to take guests to last night's Forum industry dinner.
Kloos did advocate care about the extent of social events at festivals. "We still should be cautious, and not hugging everybody," said Kloos. "We have to find the right balance of socialising in times of pandemic – what are the limits of it. But it's something that we have to find out together."
After CPH:DOX Kloos is gearing up for a busy Cannes; but festival and market attendance across the year may change going forwards. "We try to reduce travel a bit and try to be more effective [remotely] for sustainable reasons – I think that's worthwhile," said Kloos.
The in-person festival closes on April 3, with an online edition running from April 1-10.
CPH:DOX 2022 winners
Dox:Award
The Eclipse (Nor)
Dir: Natasa Urban
F:act Award
Black Mambas (Ger-Fr)
Dir: Lena Karbe
Special mention – The Territory (Den-US)
Dir: Alex Pritz
Nordic:Dox Award
The Last Human (Den-Green)
Dir: Ivalo Frank
Special mention
Tsumu – Where Do You Go With Your Dreams (Den-Swe)
Dir: Kasper Kiertzner
New:Vision Award
What About China (US-China)
Dir: Trinh Minh-ha
Special mention – Congress Of Idling Persons (Leb)
Dir: Bassem Saad
Next:Wave Award
Kash Kash – Without Feathers We Can't Live (Ger-Leb-Qat)
Dir: Lea Najjar
Special mention
Moosa Lane (Pak-Den-Nor)
Dir: Anita Hopland
Politiken:DOX Award
A House Made Of Splinters (Den)
Dir: Simon Lereng Wilmont
Special mention
Mr. Graversen (Den)
Dir: Michael Graversen
Eurimages co-production development award
The Last Nomads (Ser)
Dirs; Biljana Tutorov, Petar Glomazic
DR Talent Award
The Killjoy Manifest (Den)
Dir: Minna Katz