A typhoon failed to dampen the event's opening night as anticipated protests were muted.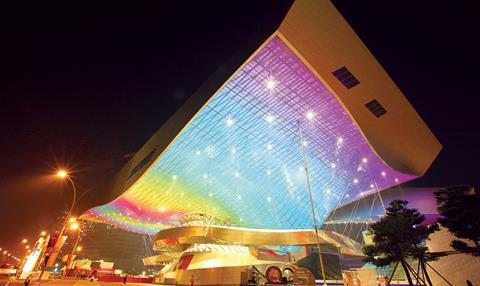 The 21st Busan International Film Festival (BIFF) had a relatively calm opening on Thursday night (Oct 6), despite rumours of protest and a typhoon that had battered the city the day before.
Rumours swirled in the run-up to the opening ceremony that the local film industry would stage protests against political interference at the festival, as well as to support former BIFF executives, who are currently being prosecuted. A heavy police presence around the main venue, the Busan Cinema Centre, suggested that local authorities were on high alert.
However, only one protest was spotted as guests streamed up the red carpet; actor Kim Eui-suk, who appears in Zhang Lu's opening film A Quiet Dream, held up a sign saying "Independent Film Festival for Busan". Kim is also on BIFF's jury for the award for actor and actress of the year.
In the hours before the opening ceremony, local workers were clearing up the mess created by Typhoon Chaba, which disrupted attendees' travel plans and destroyed the BIFF Village temporary structure on Haeundae beach. More than 20 Open Talk, Outdoor Greeting and Hand Printing events have been relocated to Dureraum Square at the Busan Cinema Centre as a result of the damage.
By the time the ceremony kicked off, calm had been restored and the outdoor screening area of Busan Cinema Centre was packed with cheering fans.
Although there were fewer local stars and industry figures in attendance than previous years, long-time BIFF supporters including actor Ahn Sung-ki and directors Kim Ki-duk and Im Kwon-taek walked the red carpet, along with regional stars and filmmakers such as Ken Watanabe, Kara Hui Ying-hung, Ho Yuhang, Eric Khoo and Joko Anwar.
Local stars Seol Gyeong-gu and Han Hyo-joo, who both appeared in 2013 hit Cold Eyes, hosted the opening ceremony. BIFF chairman and founding festival director Kim Dong-ho presented the Korean Cinema Award to Laurence Herzberg, director general of France's Forum des Images. Ahmad Kiarostami collected the Asian Filmmaker of the Year Award on behalf of his father, late Iranian filmmaker Abbas Kiarostami, who died in July.
However, one face noticeably absent was former festival director Lee Yong-kwan, who is standing trial for mismanagement of funds, a charge the local industry believes is politically motivated and connected to the screening of controversial documentary The Truth Shall Not Sink With Sewol in 2014.
Prosecutors have asked for one year of imprisonment for Lee, who stood trial on September 28, and 10 months for BIFF secretary general Yang Heon-gyu, who was indicted with him for paying out a false sponsorship brokerage fee to a company that had previously seen losses working with BIFF.
They also asked for one year each for former Asian Film Market head Jay Jeon, who is indicted for fraud, and former secretary general Kang Sung-ho, indicted for embezzlement. The verdict hearing will be held on October 26, 2016.
Jean Noh contributed to this report.