Park Chan-wook's adaptation of Sarah Waters' lesbian-themed Fingersmith played in Competition.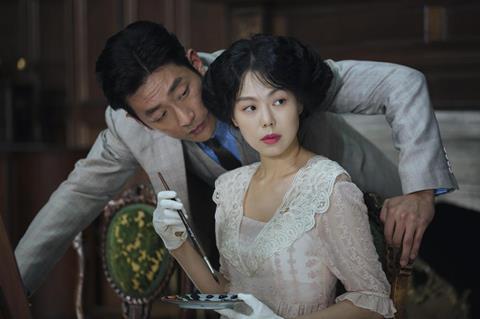 Curzon Artificial Eye has acquired Park Chan-wook's The Handmaiden (Agassi) for the UK.
An adaptation of Sarah Waters' award-winning novel Fingersmith, it marks the Oldboy director's first Korean-language production since 2009 vampire thriller Thirst.
The film transposes Waters' sapphic Victorian potboiler to Japanese-occupied Korea at the beginning of the 20th century and follows a Japanese heiress who falls in love with a female thief.
The film played at Cannes last month and saw Park (Sympathy For Lady Vengeance, Stoker) return to the festival's Competition for the first time since Thirst, which won the Jury Prize in 2009 - as did the Korean director's festival debut Oldboy in 2003.
The deal was negotiated with Justin Kim and Yoonhee Choi for CJ Entertainment.
CJ sold a raft of territories on the drama at EFM in February, including US rights to Amazon Studios.
As previously announced, Curzon Artificial Eye has already acquired Cannes Competition winners The Salesman, Graduation and It's Only The End of The World as well as The Unknown Girl.
Louisa Dent, managing director of Curzon Artificial Eye, described The Handmaiden as "a mesmerising and seductive piece of filmmaking" and added: "This years Cannes festival was of an exceptionally high standard and these films were amongst the best."