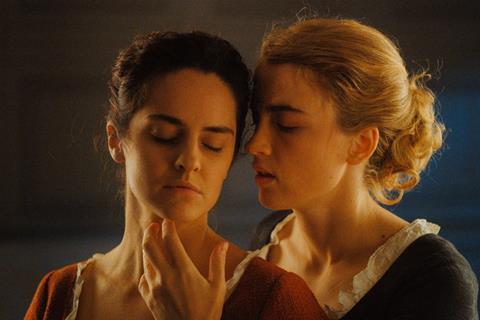 Curzon has revealed that Portrait Of A Lady On Fire is now it's most successful title to date on its streaming platform as UK audiences flock online in the wake of cinema closures.
Celine Sciamma's romantic drama had been performing strongly in theatres for Curzon, grossing £557,000 ($653,000) at the UK box office, before theatres closed their doors amid the coronavirus crisis.
It has now become the most purchased title on Curzon Home Cinema (CHC), which overall recorded a 27% increase on premium VOD week-on-week from March 23-29. Compared with the equivalent weekend in 2019, CHC reported a 296% increase in gross income from March 27-29.
Income rose 11% on the already record-breaking previous weekend.
Hirokazu Kore-Eda's The Truth, which has been available on the platform since March 20, leads CHC's top 10 and could overtake Portrait… in the coming weeks.
Curzon hosted its first in a new series of live-streamed Q&As with System Crasher director Nora Fingscheidt on Friday, March 27. Over the weekend, more than 5,000 watched the Q&A, either live or via the recording hosted on Curzon's YouTube and Facebook pages.
The second Q&A will pair Bait director Mark Jenkin with critic Mark Kermode. It will be live streamed on Curzon Home Cinema, Twitter, Facebook and YouTube tomorrow evening (March 31)
The Truth (2019)
Portrait Of A Lady On Fire (2019)
Military Wives (2019)
The Perfect Candidate (2019)
And Then We Danced (2019)
Vivarium (2019)
System Crasher (2019)
Cunningham (2019)
Mr. Jones (2019)
Dogs Don't Wear Pants (2019)
MUBI, BFI Player top titles
UK-based MUBI, which acts as both an international streaming platform and distributor, reported a further rise in figures as audiences seek home entertainment.
For the week commencing March 23, subscribers grew 26% in the UK and 43% in Ireland compared to the previous seven days, which had also recorded a boost. Views also rose close to 50% week-on-week.
MUBI's top 10 for March 23-29 were:
The Wild Goose Lake (2019)
The Daughters Of Fire (2018)
eXistenZ (1999)
Bacurau (2019)
Léon Morin, Priest (1961)
Sympathy For Mr. Vengeance (2002)
High Life (2018)
Lourdes (2009)
The Miracle Of The Sargasso Sea (2019)
Primer (2004)
While the British Film Institute would not reveal figures for its streaming platform, BFI Player, it did share the most-watched titles from March 23-29:
Rentals
And Then We Danced (2019)
Vivarium (2019)
Mr. Jones (2019)
End Of The Century (2019)
The Street (2019)
Giant Little Ones (2018)
Pain And Glory (2019)
I Am Love (2009)
Official Secrets (2019)
Mapplethorpe (2018)
Subscription
Bait (2019)
Don't Look Down (2019)
Theo And Hugo (2016)
Aniara (2018)
For They Know Not What They Do (2019)
Paris Texas (1984)
Society (1989)
King Of New York (1990)
Ask Any Buddy (2020)
Taxi Tehran (2015)