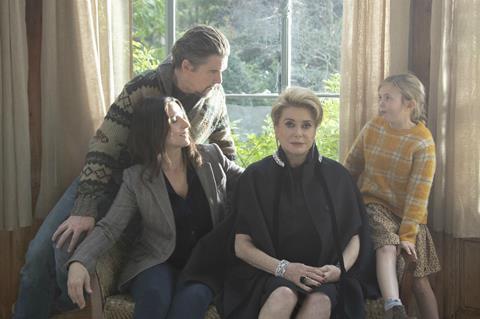 Hirokazu Kore-Eda's English and French-language drama The Truth was the most-streamed title on Curzon Home Cinema (CHC) last weekend (March 20-22) according to a top 10 of the most-viewed titles revealed by by the UK platform.
The Truth was set for theatrical release on March 20 via Curzon's distribution arm but pivoted to an early digital release in the wake of cinema closures. Its release beat the previous best three-day figure on the platform by 66%. No further details of the numbers involved were given.
Celine Sciamma's Portrait Of A Lady On Fire, Levan Akin's Georgian And Then We Danced, Agnieszka Holland's Mr Jones, and J-P Valkeapaa's Dogs Don't Wear Pants comprised the rest of CHC's top five for the weekend.
Portrait Of A Lady On Fire had been performing strongly in theatres for Curzon,grossing £557,000 ($653,000) at the UK box office.
CHC reported record figures for the weekend as audiences flocked online to watch films during the coronavirus lockdown with its gross income rising 347% compared to the same three-day period in 2019. Most cinemas had closed their doors by Thursday and the UK government ordered all venues to shutter operations by end of business on Friday in a bid to stem the spread of Covid-19.
The result was an 89% boost on Curzon Home Cinema's previous best weekend and a 99% increase on its previous best seven-day result.
The streaming service has also doubled its selection of films solely available to Curzon members from 12 to 24 in a bid to better serve them during the closures. Curzon was forced to clos its 13 venues on March 19 following government advice and all staff have taken a short-term pay cut in an effort to avoid redundancies.
CHC now plans to roll out further initiatives "to keep the magic of the collective viewing experience alive in this time where theatres are closed" said Curzon CEO Philip Knatchbull.
These could include an initiative to stream a series of director Q&As from their own isolation. "We're discussing options with a number of our beloved directors," said Knatchbull.
Curzon Home Cinema's top 10 titles (March 20-22)
The Truth (2019)

Portrait Of A Lady On Fire (2019)

And Then We Danced (2019)

Mr. Jones (2019)

Dogs Don't Wear Pants (2019)

Bacurau (2019)
Cunningham (2019)
Escape From Pretoria (2020)
End Of The Century (2019)

The Peanut Butter Falcon (2019)

MUBI subscriptions rise
UK-based MUBI, which acts as both an international streaming platform and distributor, has also seen figures rise during the pandemic.
Subscribers rose 24% in the UK and 34% in Ireland across the week beginning March 16. Italy, which has been hardest hit by the virus, saw subscribers grow 52% in the same period. Views rose nearly 50% on the previous week.
As a distributor, MUBI has also had to shift its strategy following cinema closures. Its Cannes jury prize-winner Bacurau is receiving an early digital release as a result.
Its top five titles, provided in no particular order, are Bacurau, Jean-Pierre Melville's 1956 crime thriller Bob Le Flambeur, Claire Denis' sci-fi drama High Life, Steven Shainberg's Secretary and Henri-Georges Clouzot's 1956 documentary The Mystery Of Picasso.
While the British Film Institute would not reveal figures for its streaming platform, BFI Player, it did share the most-watched titles of the last seven days
Rentals
And Then We Danced (2019)
End of the Century (2019)
Sorry We Missed You (2019)
Mr. Jones (2019)
Long Day's Journey Into Night (2018)
Official Secrets (2019)
Pain and Glory (2019)
Giant Little Ones (2018)
Monos (2019)
Judy (2019)
Subscription
Bait (2019)
Aniara (2018)
Theo and Hugo (2016)
Taxi Tehran (2015)
King of New York (1990)
For They Know Not What They Do (2019)
Paris Texas (1984)
Immoral Tales (1973)
La dolce vita (1960)
Caravaggio (1986)