The first images from comedy reboot Dad's Army have been released as well as fresh cast details.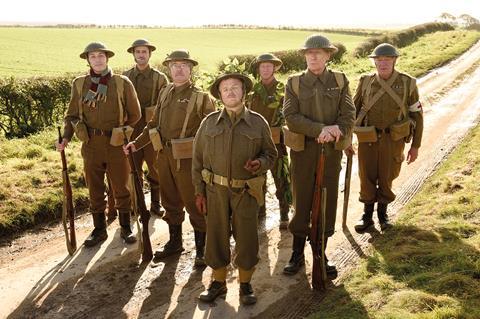 Universal Pictures, Screen Yorkshire and DJ Films have released the first images from British comedy reboot Dad's Army.
The ensemble playing the Home Guard during the Second World War includes Bill Nighy as Wilson, Toby Jones as Captain Mainwaring, Tom Courtenay as Corporal Jones, Michael Gambon as Godfrey, Blake Harrison as Pike, Danny Mays as Walker and Bill Paterson as Fraser.
The other image shows Jones as Mainwaring leaning against a car with Catherine Zeta Jones, who plays journalist Rose.
Other previously announced cast includes Sarah Lancashire, Alison Steadman , Mark Gatiss and Annette Crosbie.
New cast announced today includes Felicity Montagu (Bridget Jones's Diary), Julia Foster (Alfie), Holli Dempsey (Derek), Oliver Tobias (Arthur of the Britons) and Emily Atack (The Inbetweeners).
Oliver Parker directs the new take on the classic British sitcom, which ran from 1968-77 originally created by Jimmy Perry and David Croft.
Shooting commenced in October and will take place entirely on location in Yorkshire.
The feature film is written by Hamish McColl and produced by Damian Jones (The Iron Lady, Belle). The film was packaged by Wiggin EP and is backed by Screen Yorkshire through the Yorkshire Content Fund.
Set in 1944 as the Second World War reaches its climax, the Allies are poised to invade France and finally defeat the German army. But in Walmington-on-Sea morale amongst the Home Guard, led by Captain Mainwaring, is low.
So their new mission, to patrol the Dover army base, is a great chance to revive spirits and reputation - until glamorous journalist Rose Winters arrives to write about their exploits.
MI5 then discover a radio signal sent direct to Berlin from Walmington-on-Sea, sparking rumours of a spy and - with the outcome of the war suddenly at stake - it falls to the veteran servicemen to step up.
The film is a Universal Pictures presentation of a DJ Films production, supported by Screen Yorkshire's Yorkshire Content Fund, in association with British Film Company, Worldwide Theatrix Ltd and Jimmy Perry Productions .
Produced by Damian Jones, Dad's Army has Jimmy Perry, Ann Croft, Penny Croft, Hugo Heppell, Steve Milne, Christian Eisenbeiss, Josephine Rose and Miles Ketley serving as executive producers.
Universal Pictures International, through its division Universal Pictures International Production (UPIP) has acquired worldwide rights to the film.