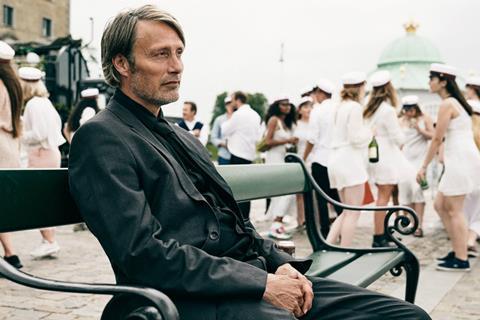 Thomas Vinterberg's drinking drama Another Round will represent Denmark in the international feature category at the 2021 Oscars.
It was selected by the Danish Oscar committee, comprised of film industry representatives including from the Danish Film Institute.
The title was chosen from a three-film shortlist, ahead of Malou Reymann's A Perfectly Normal Family and Anders Ølholm and Frederik Louis Hviid's Shorta.
Another Round premiered at Toronto International Film Festival in September, having previously been awarded the Cannes 2020 label in June.
It has won awards on the festival circuit at San Sebastián, London and Ghent, and has four nominations at the 2020 European Film Awards including best film, best director and European actor for Mads Mikkelsen.
Mikkelsen plays a middle-aged high-school teacher who, along with three friends, tests the theory that life is better lived with a constant level of alcohol in the blood.
The film premiered in Denmark on September 24, and has recorded 753,000 admissions to date – a record for Vinterberg in his home territory.
Studiocanal acquired the film for the UK and Ireland last year; its release has been delayed by the pandemic-induced lockdowns, and it is currently not dated on the release calendar.
Denmark is one of the most successful countries in the foreign-language category, with 12 nominations and three wins from 57 previous entries. The top prizes came for Susanne Bier's In A Better World in 2011; Bille August's Pelle The Conqueror in 1989; and Gabriel Axel's Babette's Feast in 1988. Including Bier's win, the country has six nominations in the last 13 ceremonies.
This is Vinterberg's third time representing his country, after The Celebration (Festen) in 1999 and The Hunt (Jagten) which was nominated in 2014.
"Another Round has proved to have unique cross-generational appeal," said Claus Ladegaard, CEO of the Danish Film Institute and head of the Oscar committee.
"International publicity and festival awards bode well for the film, which will hopefully soon see wide release in Europe and the US."