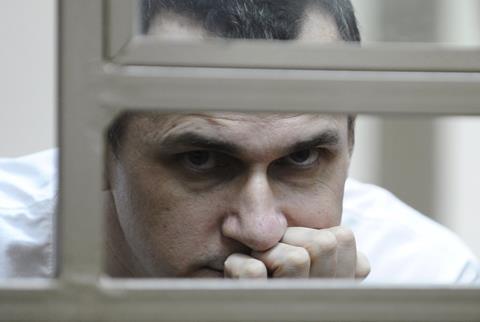 The European Film Academy (EFA) has called for renewed efforts to bring about the freedom of jailed Ukrainian director Oleg Sentsov, following his decision to end his highly-publicised hunger strike this weekend after 145-days without food.
"The end of Oleg's hunger strike marks a new beginning," said EFA deputy chairman Mike Downey.
Sentsov started refusing food last May as a protest against his detention in Russia as well as that of 64 other Ukrainian political prisoners. He had originally said he would not end the hunger strike until they were all freed but this has not happened.
"His first 145 days did not achieve the goal of liberating his comrades. He has taken it to the limits bravely and steadfastly but he has made the correct decision and live to fight another day," said Downey, who revealed the EFA had written to Sentsov to tell him they stood by him whatever path he chose.
"The European Film Academy encouraged him in this path and stand by his decision. We must now bring all protest/activist groups together and reignite our efforts to campaign for his freedom. Oleg is a hero and we highlight all of the incredible support he has got for this brave decision."
Sentsov, who is being held in a remote Arctic prison camp is reported to be in extremely bad health following the 145-day hunger strike. He reportedly had not been force-fed during this period but had agreed to take a daily cocktail of glucose and vitamins alongside water in recent weeks, but was on the verge of being force-fed by the authorities.
"145 days of battle, 20kg less in weight, body destroyed and the aim is not achieved," Sentsov was reported to have written in a statement by the UK's Independent newspaper. "I am grateful to everyone who supported me, and I ask forgiveness from those I've let down."
Sentsov was arrested in his home in the contested region of Crimea by Russian security forces in May 2014. Prior to his detention, he had been involved in the pro-European Euromaidan protests in the Ukrainian capital of Kiev in 2013 and was strongly opposed to Russia's subsequent occupation of the Crimea in 2014.
The director was sentenced by a Russian military court in 2015 to a 20-year prison sentence on terrorism charges he strongly refutes.
The EFA and other cinema bodies have organised a raft of events over the past year aimed at highlighting Sentsov's plight. A number of Russian filmmakers have also called on Russia's President Vladimir Putin to grant an act of clemency.
In a separate statement, the worldwide writers' association PEN, which has also been involved in the campaign calling for Sentsov to be freed, said: "Oleg Sentsov has shown us how powerful a lone voice can be in the face of tyranny. He did not undertake his hunger strike impulsively, nor wage it for his own freedom, but rather to seek the release of the dozens of other Ukrainian political prisoners held in Russia.
"He has succeeded in shining a light on their plight and the cruelties of Putin's regime, mobilizing creative communities around the world. We are disturbed at reports that prison authorities were insisting upon force feeding Sentsov. The Russian government seems determined to treat his fate as a craven victory, touting their own role in fostering his health as international law requires them to do."