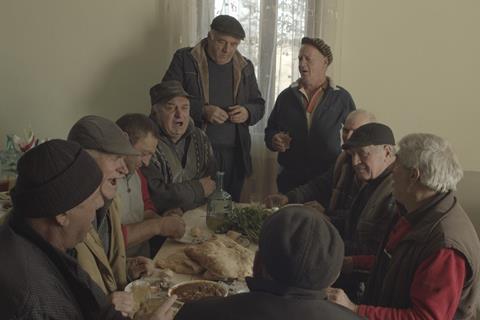 Projects from Canada, Argentina and Portugal were the winners the Arché Awards of Doclisboa's industry platform Nebulae. They were presented in a virtual award ceremony on Sunday evening (November 1).
The RTP Award for the best project in the editing or first- cut stage went to Sofia Brockenshire's Canada-Argentina project The Dependents which is based on the diaries of a Canadian immigration officer detailing 30 years of his service in Latin America and Asia.
The award sees broadcaster RTP pay €25,000 for the TV rights for Portugal and the Portuguese-speaking African countries.
The jury was comprised of Mandy Chang, commissioning editor at the BBC's documentary strand Storyville, Georgian director-producer Mariam Chachia, Chilean film historian and curator Raúl Camargo, and film curator José Navarro Andrade.
"[We] could see its potential to evolve a sophisticated narrative structure with characters that reflect on the complexity of different cultural perspectives and different roles within one family," said Chang of The Dependents which the jury saw in rough-cut form.
Fifteen projects in different stages of production from Portugal, Spain, Cuba, The Netherlands, Canada, Mexico, Bolivia, Argentina, Brazil and Peru participated in this year's online edition of the Arché lab of project development workshops, pitching sessions and one-to-one meetings with film professionals attending Doclisboa.
The special jury prize for a project in the editing or first- cut stage went to Buenos Aires-based filmmaker Tatiana Mazú for Every Document Of Civilization. It was awarded €7,000 in postproduction services sponsored by the facilities company McFly – Sound Production and Films.
Portugal's Cláudia Alves received the Selina award for best project in the writing or development stage of for her project Gentlewomen. Produced by Ukbar Filmes, Alves' script casts a light on a group of high society ladies, known as "gentlewomen nurses" who built a hospital in northern France during the First World War to care for the Portuguese Expeditionary Corps serving there.
Finally, the €1,000 NOVA/FCSH Award for the best project in Arché, sponsored by the Faculty of Social and Human Sciences at Lisbon's NOVA University, was presented to Miguel Cabral's short documentary Night Tears Or The End of Innocence which is at the editing stage. It is scheduled to be completed by March 2021.
Previous Arché projects include Leonor Noivo's FID Marseille 2019 best film winner Reynard, Heidi Hassan and Patricia Pérez's IDFA 2019 winner In AWhisper, and The Metamorphosis Of Birds by Catarina Vasconcelos, which premiered in the new Encounters competition at this year's Berlinale where it won the FIPRESCI award.
Sunday's award ceremony saw Nebulae launch a new partnership with the Warsaw-based digital project platform, Pitch the Doc, to give a special mention to a project from Georgia, which was the country in focus at DocLisboa this year. The €50 award will enable director Luka Beradze to receive an expert consultancy within the next 12 months for his project Smiling Georgia. Produced by Tbilisi-based 1991 Productions and Cologne's Color of May, Smiling Georgia was also presented at the third edition of the European Work in Progress market last month.