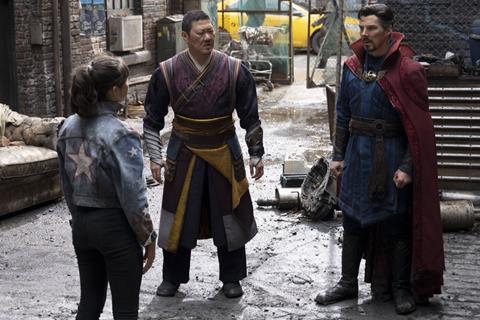 Worldwide Box Office May 13-15
Rank

Film

(distributor)

3-day

(world)

Cume

(world)

3-day

(int'l)

Cume

(int'l)

Territories

1.

Doctor Strange 2

(Disney)

$144.5m
$688.1m
$83.5m
$396.2m
50
2.

The Bad Guys

(Universal)

$13.6m
$165.6m
$6.7m
$99.3m
67
3;

Sonic The

Hedgehog 2

(Paramount)

$9.9m
$362.9m
$5.3m
$187.2m
62
4;

Fantastic

Beasts 3

(Warner Bros)

$6.3m
$376m
$3.9m
$286m
75
5.

Firestarter

(Universal)

$5.9m
$5.9m
$2.1m
$2.1m
41
6.

The Lost City

(Paramount)

$4.7m
$170.2m
$3m
$73.1m
55
7.

Everything

Everywhere

All At Once

(various)

$4.7m
$55.9m
$1.4m
$8.8m
16
8.

The

Northman

(Universal)

$4.2m
$58.1m
$2.5m
$27m
48
9.

Downton

Abbey: A

New Era

(Universal)

$3.6m
$29.7m
$3.6m
$29.7m
46
10.

Memory

(various)

$1.9m
$10.7m
$1.5m
$4m
21
Credit: Comscore, all figures estimated, click top right to expand
'Doctor Strange 2' delivers $145m second session
After its towering debut last weekend, Disney/Marvel Studios' Doctor Strange In The Multiverse Of Madness took a big tumble in its second session, dropping 67.5% at the North America box office, and 60% in international markets. However, the film's estimated global weekend takings of $144.5m dwarf the number for second-placed The Bad Guys ($13.6m).
The Sam Raimi-directed sequel grossed an estimated $61m in North America and $83.5m for international. Totals after two weekends are respectively $291.9m and $396.2m, combining for a global tally of $688.1m.
This number has been achieved without benefit of China (where the film has yet to be allocated a release date) and Russia – and exceeds the $678m lifetime global total for Doctor Strange back in 2016. That earlier film benefited from a combined $131.5m in China and Russia.
Doctor Strange In The Multiverse Of Madness was the number-one film at the weekend in 48 out of its current 50 markets, and was the top non-local title in the other two: Japan and India.
After two weekends of play, it's already the highest-grossing film of the pandemic era in Indonesia, and the second-highest grossing pandemic-era title in Brazil, Mexico and all other remaining Latin American countries except Colombia (where the locally relevant Encanto performed exceptionally strongly).
The second Doctor Strange film continues to perform best internationally in South Korea, with a total to date of $41.4m, followed by UK/Ireland with $36.9m. Mexico ($31.1m) and Brazil ($25.1m) come next, with Australia ($19.4m) moving up to fifth place in the table for cumulative box office. Next come India ($17.7m), France ($17.5m), Indonesia ($15.7m), Germany ($14.4m), Japan ($12.9m) and Italy ($12.1m).
Doctor Strange In The Multiverse Of Madness is already the fifth-biggest US studio film of the pandemic era, behind Spider-Man: No Way Home ($1.89bn), No Time To Die ($774m), The Batman ($767m) and Fast & Furious 9 ($726m).
'Firestarter' sputters with weak debut
Universal's Firestarter failed to ignite many box office conflagrations in its opening session, beginning with an estimated $3.8m in North America and $2.1m for international, combining for $5.9m worldwide.
The latest from Blumhouse Productions is adapted from a 1980 Stephen King novel, which was previously adapted into a 1984 film directed by Mark L Lester. The remake is directed by Keith Thomas (The Vigil), with a cast led by Zac Efron.
Among the 40 international markets so far, Firestarter opened in six figures in five of them, led by UK/Ireland (an estimated $281,000) – which was impacted locally by good weather on Saturday and the FA Cup football final. Next come Mexico ($194,000), Australia ($182,000), Others Middle East ($166,000) and Germany ($122,000).
Firestarter was the only new entry in Comscore's latest top 10 worldwide box office chart – which was otherwise notably static, with nine titles from the previous weekend chart remaining.
Box office outcomes for adaptations of the prolific King have proved variable. Paramount's remake of Pet Sematary grossed $113m worldwide in 2019, while Warner Bros' two It films scored $702m and $473m in 2017 and 2019. Warner Bros' Doctor Sleep disappointed with $72.4m in 2019.
Future key markets for Firestarter include Brazil and South Korea this Thursday (May 19), France on June 1 and Japan on June 17.
'The Bad Guys' holds second place in global chart
Universal's release of DreamWorks Animation's The Bad Guys achieved strong holds at the weekend, declining a relatively slim 28% at the North America box office and just 14% in international markets.
Estimated worldwide box office of $13.6m saw the film hold on to second place in the global chart, ahead of third-placed Sonic The Hedgehog 2 (with $9.85m). Cumulative totals for The Bad Guys are $66.3m in North America, $99.3m for international, and $165.6m worldwide.
The film was boosted by a strong performance in China, with a chart-topping $4m in its third weekend of play, up 54% on the second session. Cumulative total there is $19.6m.
Among other international territories, UK/Ireland comes second for cumulative totals, with $14.6m so far, ahead of Australia ($10.6m) and France ($6.2m).
For the pandemic era, the other top US studio animations are Sing 2 ($406m), Encanto ($255.3m), The Croods: A New Age ($215.9m), The Boss Baby 2 ($146.7m) and Paw Patrol: The Movie ($144.3m).
'Sonic The Hedgehog 2' moves up to third place
Paramount's Sonic The Hedgehog 2 fell 42% in international markets (with an estimated $5.3m weekend total) and 24% in North America ($4.55m) – but those numbers were strong enough to see the film move up from fourth to third place in the global box office chart.
And that's because Warner Bros' Fantastic Beasts: The Secrets Of Dumbledore fell harder – down 43% in North America, and 64% in international markets, thus dropping to fourth place in the worldwide chart.
Total for Sonic The Hedgehog 2 is now $362.9m, which compares with $319.7m for the first Sonic The Hedgehog film in a pre-pandemic 2020.
Fantastic Beasts: The Secrets Of Dumbledore has reached $376.0m, which is 46% of the lifetime total achieved by Fantastic Beasts And Where To Find Them ($814m worldwide) and 57% of the total for The Crimes Of Grindelwald ($655m)