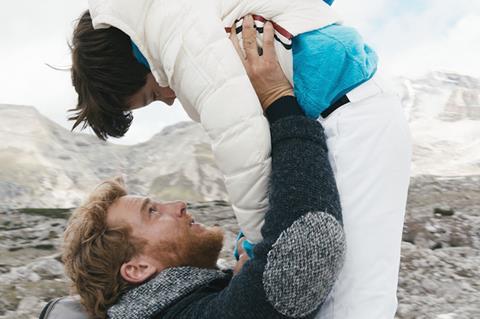 Veteran art house distributor Ed Arentz announced today the formation of a new NYC-based distribution label, Greenwich Entertainment, in partnership with an investment fund run by Edmondo Schwartz. Greenwich will grow to handle between six to eight traditional theatrical releases and a similar number of smaller scale releases annually.
Arentz has been directly responsible for generating over $70m in theatrical box office in his 17 year distribution career that includes eight Oscar nominations. Most recently, he was the co-founder and managing director of Music Box Films where he acquired and released many of the most significant foreign language hits of the last decade including The Girl With The Dragon Tattoo, the Oscar winning Ida and more recently the Oscar-nominated A Man Called Ove. Schwartz was co-founder with Arentz of Empire Pictures in 2000 and co-founded Cohen Media Group in 2010.
Initial acquisitions for the 2018 slate include Jan Zebeil's Three Peaks (pictured above) starring Bérénice Bejo and Alexander Fehling. The dramatic thriller centres on a recently divorced French woman, her eight-year-old son and her new German boyfriend whose summer holiday in the Italian Dolomites goes from bucolic to harrowing. The film had its world premiere at Locarno where it won the Variety Piazza Grande Award and is having its North American premiere in TIFF. The deal for US and Canada was concluded in Locarno with The Match Factory's Head of Sales, Thania Dimitrakopoulou.
Also slated for a 2018 theatrical release is Claus Räfle's documentary thriller The Invisibles, the untold story of four German Jews who manage to survive the Third Reich living in Berlin, the belly of the beast, by sheer resourcefulness, luck and the decency of fellow Germans. Beta Cinema CEO Dirk Schuerhoff negotiated the terms with Arentz for North America. The Invisibles will have its North American premiere next month at the Mill Valley Film Festival.
"Vast resources, scale and a global reach come in handy in this business, as in any other, but it seems clear to us that film distribution is still an arena where a small but efficient, resourceful, reasonably capitalised firm can provide important value to producers, viewing platforms, audiences and investors alike. We're excited to begin testing this proposition anew," Arentz said.