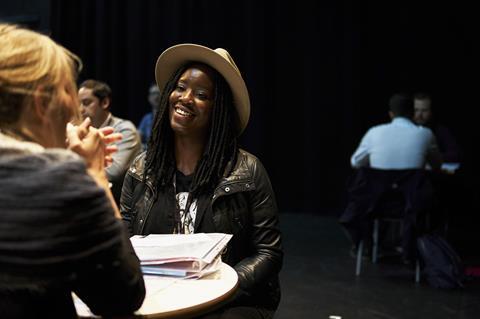 The Edinburgh International Film Festival (EIFF) has revealed the line-up of industry events running alongside this year's festival.
The nine-day industry programme, which runs June 21-29, takes place at the Press and Industry Centre in the Traverse theatre.
Industry events
The BFI's six new regional talent executives, announced in April, will attend a 'Meet the NETWORK' event that will feature an introduction by talent development manager Matimba Kabalika and a roundtable focussing on making the most of a short film, hosted by two BFI execs.
Fresh from the film's Cannes premiere, Whitney director Kevin Macdonald and producer Simon Chinn will discuss documentary storytelling.
An 'Inclusivity Behind The Camera' panel featuring Gareth Ellis Unwin and Michelle Moon Lim from Creative Skillset and Sonja Henrici from Scottish Documentary Institute will tackle how filmmakers and producers improve crew inclusivity.
London-based animator Lizzy Hobbs, whose retrospective screens as part of this year's public programme, will take part in the industry animation events running June 27-28.
The closing session on June 29 will focus on adapting books for screen, followed by a networking event supported by Creative Scotland.
Partners for the industry events programme include Creative Europe, BFI NETWORK, Film Hub Scotland, Scottish Documentary Institute (SDI), Creative Skillset, London Film Academy, Bafta Scotland and PRS for Music.
EIFF Works In Progress
EIFF Works in Progress will showcase ten new projects from across the UK to an invited audience of sales agents, distributors, financiers and festival programmers. The most promising project will win a £2500 prize. The line-up is below:
A Serial Killer's Guide To Life – Dir: Staten Cousins Roe
Benchmark 6 – Dir: David Newbigging
Between You And Me – Dir: Grace Porter
Cat In The Wall – Dir: Mina Mileva and Vesela Kazakova
Dark Sense – Dir: Magnus Wake
I Get Knocked Down – Dirs: Sophie Robinson and Dunstan Bruce
Imperial Blue – Dir: Dan Moss
Riding The Wave – Dir: Martyn Robertson
The Paper Bag Bombers - Dir: Gordon Main
Us Among The Stones – Dir: D.R Hood
Talent lab
A total of 30 filmmakers will take part in the four-day EIFF Talent Lab, which is supported through the Scottish Government's Edinburgh Festivals Expo Fund.
Guests attending this year's programme of panels, masterclasses and one-to-one sessions include representatives from Cornerstone Films, Film4, Protagonist Pictures, United Agents, Wellington Films, BBC Films, Bankside Films, Peccadillo Pictures and Altitude Entertainment.
The 2018 Talent Lab participants are:
Screenwriters: Lauren Lomas, Gillian Park, Michael Lee Richardson.
Writer/Directors: Tomisin Adepeju, Ben Adler, Kate Burton, Joséfa Celestin, Lisa Clarkson, Faye Jackson, Leonora Lonsdale, Iain Mitchell, Gordon Napier, Tom Nicoll, Kevin Pickering, Charlotte Regan.
Producers: Sorcha Bacon, Daniel-Konrad Cooper, Edward Dede, Robyn Forsythe, Maria Caruana Galizia, Georgia Goggin, James Heath, Lauren Lamarr, Fawzia Rukhsana Mahmood, Jennifer Monks, Lauren Parker, Garry Paton, Sam Tipper-Hale, Margarita Veberaite, Lewis Wardrop
Distribution rewired
Distribution Rewired will return for the fourth year to focus on filmmakers working with newer distribution models.
The initiative includes a marketplace where ten pre-selected film projects can arrange meetings with industry figures to explore more creative approaches to distribution.
EIFF runs June 20 - July 1.