Global Screen and Picture Tree International are lining up a number of market premieres to be unveiled at the European Film Market (EFM) in Berlin later this week.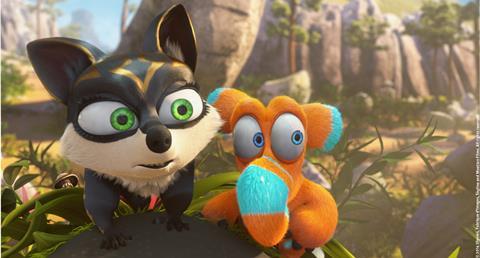 Munich-based Global Screen's market premieres include the first 3D screening of Toby Genkel's animation film Ooops! Noah Is Gone as well as a presentation of the Danish Christmas film The Christmas Family, directed by Carsten Rudolf.
The company is also using this year's EFM to begin presales on the apocalyptic sci-fi film SUM 1 to be directed by Christian Pasquariellio, with Games Of Thrones actor Iwan Rheon in the starring role opposite German actor André Hennicke.
The English-language film is being produced by Christian Alvart's production outfit Syrreal Entertainment and is the first title to go into production from a first look and co-development deal signed with Global Screen. Shooting is set to roll on February 9.
In addition, presales are planned on another four animation productions:
Trenk The Little Knight, directed by Anthony Power and based on the children's bestseller by Kirsten Boie
the 3D animation Marnie's World, to be directed by the Oscar-winning directorial duo, brothers Christoph and Wolfgang Lauenstein
the 3D animation Richard The Stork, by Toby Genkel and Reza Memari
the 3D animation Luis and His Friends From Outer Space, also with the Lauensteins attached as writer-directors, to be produced by Ulysses Films (Ooops! Noah is Gone…) with Fabrique d'Images and A.Film Production, for delivery in late 2017/early 2018.
Picture Tree's Ugly Too
Berlin-based Picture Tree International (PTI) will have market screenings in addition to the official festival presentations of Brazilian Lírio Ferreira's Blue Blood, the Panorama's opening film on February 5, and Mark Noonan's You're Ugly Too which has its world premiere in the Generation sidebar at the weekend.
PTI will be showing a promo reel for Simon Rouby's French-language animation film Adama which will be ready by spring 2015 and has Océan Films Distribution already attached as French distributor.
In addition, the EFM slate includes Rebecca Daly's unorthodox love story Mammal, starring Rachel Griffiths, which is currently in postproduction, and Student Academy Award winner Thomas Stuber's feature debut A Heavy Heart (Herbert) currently in production by Departures Films with deutschfilm.
A market screening is also planned for the Swiss film Chrieg which received five nominations for the Swiss Film Prize at the Solothurn Film Days last week.
Simon Jaquemet's drama received nods for Best Feature Film, Best Actor, Best Supporting Acting Performance, Best Cinematography and Best Editing.
The film will also have another screening slot on the Berlinales Kinotag on February 15 after winning the Max Ophüls Prize in Saarbrücken last month.
Another film in PTI's line-up, Marcel Gisler's Electroboy, is also among the nominees for the 2015 Swiss Film Prize in the categories for Best Documentary, Best Score and Best Editing.