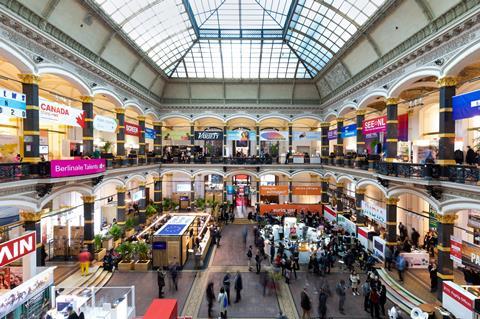 The European Film Market (EFM) Industry Sessions – the five-day conference programme accompanying the market – will operate under the title of 'Shaping Change' for the 72nd edition, discussing the challenges facing the industry in times of digital transformation.
"The signs continuously point to change. The past exceptional months have accelerated this development rapidly and have demonstrated the need for change more than ever before," said EFM director Dennis Ruh. "With the EFM Industry Sessions, we invite you to not only react to the transformation that is taking place, but also to engage in shaping it – everyone individually and collectively as an industry."
EFM will take place from February 10-17, with the exhibition areas in the Gropius Bau and in the Marriott Hotel already largely booked out. The Industry Sessions run from February 11-15 at the Berliner Freiheit, and focus on three core themes – future, diversity and inclusion and sustainable development.
The conference programme will be presented in a hybrid format, as both a physical event on site and as a live stream. The recordings will be available through video on demand afterwards.
EFM strands
The Berlinale Series Market – the market-within-the-market highlighting high-end series – will take place from February 14-16 at the Zoo Palast.
As part of a new initiative, a selection of documentaries in the rough-cut stage will be presented, similar to Berlinale Series Market showcases, in a Potsdamer Platz cinema.
This year's country in focus is Italy. It is the second time a European country has been chosen, with the previous selections being Norway, Mexico, Canada and Chile.
Market screenings
The EFM market screenings will take place primarily in cinemas on Potsdamer Platz. For the first time, the Museum of Musical Instruments will also be a screening location. Industry screenings will now be available to market badge holders exclusively for a selection of films from the current festival programme at the Cinestar Cubix at Alexanderplatz.
Online market screenings will once again also be available. Select market screenings will be accessible via video on demand until March 8, 2022.