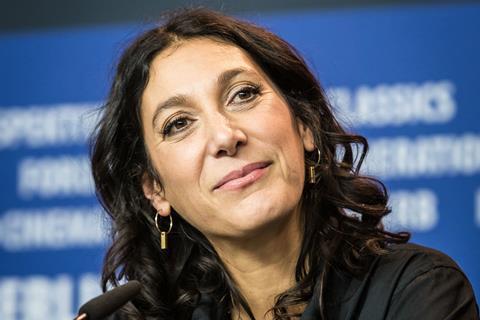 A slate of 20 feature films, 17 documentaries and 20 TV dramas have been selected for the pitching session at the fourth edition of the MIA Market in Rome (October 17-21).
Feature Film
This year's feature film projects, which come from 16 different countries, were selected by Jason Ishikawa (international sales at Cinetic Media), Anne Lai (cirector of creative producing and artist support for the feature film program at the Sundance Institute) and Sophie Mas (producer at RT Features). Half the projects are directed by women.
Among these are productions that passed through the Sundance Screenwriting lab, including The Rising Sun by Eimi Imanishi and Broadway by Christos Massalas. The latter was selected by the Locarno Film Festival as one of the 15 most promising directors in Europe.
The Sundance Institute also supported The Hanged by Fernando Coimbra, who directed episodes of Outcast, Narcos and Netflix feature Sand Castle with Nicholas Hoult.
Franco-Iranian filmmaker Emily Atef is pitching her fourth feature Mister. Her previous film, 3 Days In Quiberon, was selected for official competition at the last Berlinale and went on to win 7 Lola awards.
Oscar winner F. Murray Abraham is already attached to Mandi Riggi's Mercy. The film is exec produced by Andrew Eaton (The Crown, Rush).
TV Projects
20 TV series' from nine different countries were selected by David Davoli (SVP at Bron Studios), Dave Clarke (EVP content at Atrium TV), Meghan Lyvers (SVP co-productions and development at CBS Studios), Brandon Zimon (SVP international sales and co-productions at SKYDANCE MEDIA) and Carlo Dusi (EVP commercial strategy, scripted at Red Arrow Studios International).
Among them is The Feed, a sci-fi series based on the book by the same name by Nick Clark Windo. It is written by The Walking Dead's Channing Powell.
Another sci-fi project is Holdfast from Canada. Adapted from The Holdfast Chronicles series of novels by Suzy McKee-Charnas, it is created and written by David Vainola (Ransom).
Showrunner Robert Butler (Creeped Out) and creator Roberto Ricci will pitch The Red Harlequin, adapted from Roberto Ricci's book series.
Docs
Spanning from long form to TV one/off, to shorts and docu-series, the international documentary section was usually reserved for Italian projects but has now opened also to foreign ones.
The selection committee was Christian Popp (CEO and producer, Yuzu Productions), Josh Braun (CEO and producer, Submarine Ent.), Karolina Lidin (documentary advisor, Nordisk Film&TV Fund) and Liselot Verbrugge (partner, Dox Consulting).
Alessandro Rossellini will present The Rossellinis, a documentary produced by B&B Film about the director's extended family.
French production company Day For Night is presenting Jérémy Leroux's Vibrato, a documentary by about the victims of the Bataclan terror attack.
An ambitious project is 1979 The Big Bang of History by Dirk Van Der Berg, produced by German OutreMer Film GmbH. The docu-series explores how religion, economics and politics, from China's economic reforms to Pope John Paul's visit to Poland and the Soviet invasion of Afghanistan, changed the planet forever in a single year.
The MIA market is created, developed and produced by ANICA (Italian Association of Film industries) and APT (Italian Association of Television Producers). The 2018 edition will be located in Rome's Barberini district around Piazza Barberini.
Full line-up
Feature Film
The Hanged by Fernando Coimbra, prod. Gullane (Brazil)
Maria Black Eyes by Benjamin Brunet, prod. Infractor Films (Chile)
I'm Fierce by Daniel Mejía, prod. Fidelio Films (Colombia)
The Nightsiren by Tereza Nvotová, prod. BFILM s.r.o. (Czech Republic)
The Penultimate by Jonas Kærup Hjort, prod. Tambo Film (Denmark)
Mister by Emily Atef, prod. Eaux Vives (France)
The Great Freedom by Wendla Nölle, prod. Tamtam Film (Germany)
Broadway by Christos Massalas, prod. Neda Film (Greece)
Wolf by Nathalie Biancheri, prod. Feline Films (Ireland)
The Favorite Daughters by Lucrezia Le Moli Munck, prod. Lucky Red (Italy)
Domina Maris by Silvia Perra, prod. Blue Monday Productions (Italy)
The Lamb by Mario Piredda L'Agnello, prod. Articolture (Italy)
Simin Dona by Igor Cobileanski, prod. Alien Film (Moldova/Romania)
A Delicate Balance Of Terror by Jagoda Szelc, prod. Nur (Poland)
Jeux Sans Frontieres by Andrei Cretulescu, prod.Kinosseur Productions (Romani)
A Springtime Story by Andrei Gruzsniczki, prod. AVVA MMIX STUDIO (Romania)
Libertad by Clara Roquet, prod. Avalon (Spain)
The Question Of Innocence by Vimukthi Jayasundara, prod. Film Council Productions (Sri Lanka)
Mercy by Mandi Riggi, prod. Psychonaut Films (UK)
Doha - The Rising Sun by Eimi Imanishi, prod. Intaglio Films (USA)
TV series
Ordinary Citizen (Belgium), Prod. Climax Films
Brotin (Fractures) (Iceland), Prod. Glassriver/Askja Films
Calima (Spain), Prod. Meridional Producciones/Jugoplastika
Christian (Italy), Prod. Lucky Red/Fox Networks Italy
Eros 70 (Italy), Prod. Cross Productions
Gori (India), Prod. Alliance Media & Entertainment
Haya (Dark Woods) (Israel), Prod. Endemol Shine Israel
Holdfast (Canada), Prod. Sienna Films
Murder In Time (UK), Prod. Blackbox Multi Media
Otto (France), Prod. Ndrl
Red - Revolutionary Dreamers (Italy), Prod. Publispei
Red Nation Rising (Canada), Prod. Sienna Films
Super Cannes (UK), Prod. Bonafide Films Limited
The Cloud (Lithuania), Prod. Clour Space Productions
The Feed (UK/US), Prod. All3media International/Studio Lambert
The Last Cop (Israel/UK), Prod. Blackbox Multimedia/Keshet International
The Red Harlequin (UK), Prod. Pantomimus Media
These Honored Dead (US), Prod. Burgeon & Flourish
Who's Seen Jessica Bloom? (Australia), Prod. Cobbstar Prod/Black Sheep Films
The Name Of God (Italy), Prod. Endemol Shine Italy
Feature Doc
The Rossellinis (Italy), B&B Film
Vibrato (France), Day for Night Productions
Searching for Valentina. The world of Guido Crepax (Italy), Bizef Produzione Srl
Federico Of The Spirits (Italy), Mad Entertainment
I'm In Love With Pippa Bacca (Italy), Nacne Sas
Calcio Storico: The Blood of Florence (UK), Redibis Film
TV one-off
The One And The Many (Italy), Dude Film
Tintoretto - The First Movie Director (Italy), Kublai Kahn
Earth Wind And Fire (Italy), Redibis
Davide Campari. La Rivoluzione Della Pubblicità (Italy), DOC ART
Art And The Cold War (Estonia), Maagline Masin
Docu-series
1979 The Big Bang Of History (Germany), OutreMer Film GmbH
Millennials. There's No Future For Children (Italy), Kinedimorae
Rebels Styles (Italy), Kiné Società Cooperativa
The Great Forgotten (Italy), Pepito Produzioni
Shorts
Toro (Spain), GusanoFilms
The Fourth Parcae (Switzerland), Bord Cadre Films