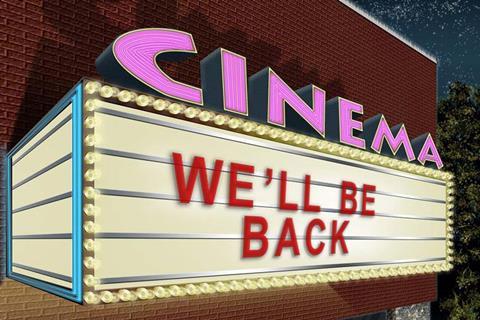 More than 40 independent cinemas across England have received a major cash boost from the UK government's Culture Recovery Fund, aimed at supporting the industry during the ongoing pandemic.
A total of £30m has been earmarked for independent cinemas and the first wave of awards will see 42 venues receive a share of £650,000 from the BFI, which is allocating the funds on behalf of the DCMS.
The majority of recipients have received cash from the first strand of the fund, which is allocating up to £10,000 per cinema to put Covid-19 safety measures in place, covering both the staff and public.
But three cinemas have also received the first business sustainability grants, which can reach £200,000 and beyond per organisation. These awards are aimed at supporting independent venues on reopening, as social distancing measures restrict the level of admissions, resulting in lower takings.
They include London's Catford Mews, which has been awarded £252,697, as well as Saffron Walden Community Cinema and Royston Picture Palace, which each receive £46,096.
Catford Mews, in south London, had been open for less than six months when it was forced to close on March 20 as part of a nationwide lockdown. It was the first cinema to open in the area since 2001 and offers subsidised school screenings while working with families with vulnerable children and prioritising BAME titles alongside a commitment to LGBTQ+ programming.
Saffron Screen, in south east England, received its award to help the venue resume business including pop-up screenings in local villages, which provide the only opportunity in the area to see mainstream, foreign language and archive films as well as streaming performances of live theatre productions. Saffron Screen took over management of Royston Picture Palace in 2019.
The £30m fund will remain open for applications until October 30.
Today (Oct 2) also marks the opening of applications for the government's Film and TV Production Restart Scheme, a £500m initiative that aims to kickstart productions struggling to secure insurance for Covid-related costs.
The initiative was established following months of campaigning by the sector to secure insurance that will effectively underwrite the cost of filming, if productions are forced to shut down due to a second lockdown and cover coronavirus-related losses for cast member and crew illnesses as well as filming delays.
However, the scheme remains subject to state aid approval from the European Union and could change. Applications have been opened in order to give the sector the opportunity to submit applications in advance, in a bid to expedite the process of reaching a decision on their application. The scheme will formally provide certificates of eligibility for successful applications when state aid approval has been granted. No fees will be due until that point in time.