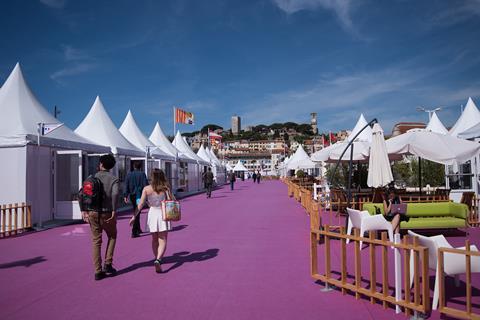 Epic Pictures and Canadian producer Gianna Isabella of Gate 67 Films have completed principal photography on The Ballad Of Audrey Earnshaw, which Epic will launch to international buyers in Cannes next month.
Catherine Walker (A Dark Song), Sean McGinley (Braveheart), Jared Abrahamson (American Animals), Hannah Emily Anderson (Jigsaw), and newcomer Jessica Reynolds star in the tale of a young woman and her domineeting mother who live as pagans on the fringes of a Protestant settlement.
Hysteria and the increasing threat of violence mounts within the community when a mysterious plague spreads throughout the fields and livestock, while the Earnshaw farm remains unaffected.
Don McKellar (The Red Violin) and Geraldine O'Rawe (Circle Of Friends) round out the cast on the feature from writer-director Thomas Robert Lee (Empyrean), which began shooting in Calgary, Alberta, last month.
"The cast we've assembled is fantastic and I couldn't be happier with the crew," said Lee. "While it is first and foremost a horror tale, it is a film both for and about today – we are fractured, increasingly tribal, fearing 'the other'. It is 2019, yet we as a society remain trapped in some bygone era, hence the particular setting for our film."
"Very proud to be working with writer/director, Thomas Robert Lee on this incredible script," said Isabella. "Production is off to a great start thanks to our amazing cast and crew."
"This is truly a unique story, and one that fits well within the marketplace and the current need for horror films with new perspectives on the classic genre themes," said Kalani Dreimanis, director of international sales for Epic Pictures. "Thomas Robert Lee has delivered some visually stunning material so far, and we know buyers in Cannes will be impressed with the footage we have to share."
Telefilm Canada, HorizonOne Investor Group, and Epic Pictures are funding the film, which was chosen for both the Frontieres Film Finance Forum in Amsterdam and the Frontieres Platform in the Cannes market In 2018.
Marie-Claude Poulin (Brooklyn, War Witch), Divya Shahani (The Cuban), Bill Marks (Forsaken), James Mahoney and Epic Pictures serve as executive producers.