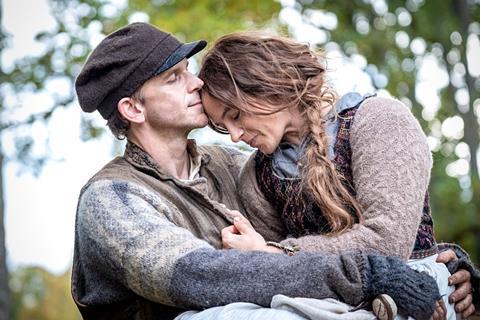 Goteborg's Nordic Film Market has revealed the 13 Nordic films that will be presented as works in progress at its online market.
They include two big-budget historical epics, Charlotte Sieling's Margrete – Queen Of The North, starring Trine Dyrholm as a powerful ruler in the early 15th century; and Erik Poppe's The Emigrants, about Swedes moving to America in the 19th century.
Scroll down for full list
Further features set to be previewed include Bille August's drama The Pact, about Karen Blixen's intense relationship with a young poet; Nathalie Alvarez's debut feature Clara Sola, set in Costa Rica; Christian Tafdrup's genre-bending Speak No Evil; Swedish erotic drama The School Master Games; and a rare Iceland-Poland co-production, Wolka.
Nordic Film Market will run February 4-7 online only, and the work in progress projects are presented as pre-recorded pitches with clips on February 5, with catch-up viewing available later. Goteborg will organise one-on-one online meetings between producers and market delegates.
The market is also set to present pitches of eight films in development in its Discovery strand for new talents. No sales companies are on board any of these projects yet.
Another annual highlight of the Nordic Film Market is the presentation of the Nostradamus report, which looks into the future of the screen industries three to five years from now through research and interviews with industry experts. The eighth edition of the report will be launched and discussed on February 4.
Nordic Film Market Works in Progress 2021
Clara Sola (Swe)
Dir. Nathalie Alvarez, pro. Nima Yousefi, Hob Ab. No sales attached
Cop Secret (Ice)
Dir. Hannes Thór Halldórsson, pro. Lilja Ósk Snorradóttir, Pegasus. No sales attached
Golden Land (Fin)
Dir. Inka Achté, pro. Liisa Karpo, Napa Films. No sales attached
Margrete – Queen Of The North (Den)
Dir. Charlotte Sieling, pro. Birgitte Skov and Lars Bredo Rahbek, SF Studios. Sales: REinvent
Nothing To Laugh About (Nor)
Dir. Peter Næss, pro. Gudny Hummelvoll and Eleonore Anselm, Hummelfilm, and Rikke Ennis, REinvent. Sales: TrustNordisk
Speak No Evil (Den)
Dir. Christian Tafdrup, pro. Jacob Jarek, Profile Pictures. Sales: TrustNordisk
The Emigrants (Swe)
Dir. Erik Poppe, pro. Fredrik Wickström Nicastro, SF Studios. Sales: REinvent
Night Of The Dying (Den)
Dir. Tea Lindenburg, pro. Lise Stender and Jesper Morthorst, Motor. No sales attached
The Pact (Den)
Dir. Bille August, pro. Karin Trolle and Jesper Morthorst, SF Studios. Sales: REinvent
The School Master Games (Swe)
Dir. Ylva Forner, pro. Sofia Ferguson, Northern Fable. Sales: LevelK
The Venus Effect (Den)
Dir. Anna Emma Haudal, pro. Lise Stender and Rikke Lassen, Motor. No sales attached
Wolka (Ice)
Dir. Árni Ólafur Ásgeirsson, pro. Hilmar Sigurdsson and Beggi Jónsson, Saga Film. Sales: ARRI Media International
Yellow Sulfur Sky (Fin)
Dir. Claes Olsson, pro. Jukka Helle and Hanna Virolainen, Solar Films. Sales: Solar Films/Smile Entertainment
Nordic Film Market Discovery 2021
Árru (Nor)
Dir. Elle Sofe Sara, pro. Elisa Fernanda Pirir, Mer Film
Baby Pyramid (Den)
Dir. Cecilie McNair, pro. René Ezra and Matilda Appelin, Nordisk Film
Family Time (Fin)
Dir. Tia Kouvo, pro. Jussi Rantamäki and Emilia Haukka, Aamu Film Company
Hypnosis (Swe)
Dir. Ernst de Geer, pro. Mimmi Spång, Garagefilm International
One Day, This Will All Be Yours (Swe)
Dir. Andreas Öhman, produced Eliza Jones and Markus Waltå, Grand Slam, and Gila Ulfung, Breidablick Film
Stranger (Den)
Dir. Mads Hedegaard, pro. Andreas Hjortdal, Motor
The Swedish-Finn (Swe)
Dir. Johanna Pyykkö, pro. Frida Mårtensson, Jerry Carlsson and Anette Sidor, Verket
Twilight of the Gods (Swe)
Dir. Morgane Dziurla-Petit, pro. Fredrik Lange, Vilda Bomben