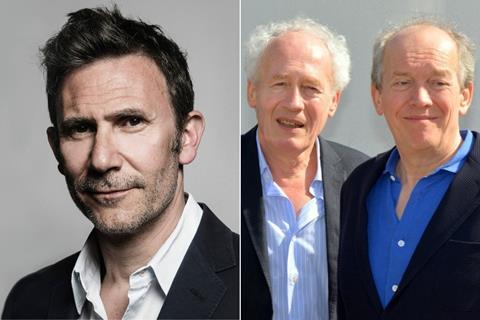 Co-productions from French director Michel Hazanavicius and Belgian filmmaking duo Jean-Pierre and Luc Dardenne are among 24 selected for funding in the latest Eurimages round.
Hazanavicius, whose 2011 title The Artist which won five Oscars including best picture and director, receives €470,000 (£405,978) towards Franco-Belgian animation The Most Precious Of Cargoes.
Adapted from a 2019 novel by French writer Jean-Claude Grumberg, the animated film is set during the Second World War, when a Jewish father throws one of his twins from the train to Auschwitz in a desperate attempt to save him. The boy is then discovered by a childless Polish couple.
Studiocanal is handling worldwide sales on the title, which is produced by French firm Ex Nihilo, with producers including Robert Guédiguian, Hazanavicius and the Dardennes brothers.
The latter duo are also receiving €375,000 (£323,061) towards their own title Tori And Lokita. Also a France-Belgium co-production, it centres on two friends who arrive in Belgium from Africa. It aims to shoot this summer.
Also selected for funding are new projects from Macedonian director Milcho Manchevski, who was Oscar-nominated for Before The Rain in 1995, for his new project Kaymak; Spanish director Pablo Berger (Blancanieves) with animation Robot Dreams; and Belgian filmmaking duo Adil El Arbi and Bilall Fallah (Bad Boys For Life) for Rebel.
Hazanavicius's project received the largest award, followed by two other animations – Berger's project and Jean-Loup Felicioli and Alain Gagnol's French-Luxembourg co-production Tales Of The Hedgehog – and the live-action Roll which is the feature debut of Loris Lai; all four were awarded €400,000 or above.
The 162nd Eurimages council meeting was held online. Of the 24 feature projects it selected for a total of €5.8m (£5m) funding, three are documentaries and three are animations. 45.83% of those selected are directed by women, receiving 38.01% of the total amount awarded.
Eurimages March 2021 funding
Beanie (Slovenia-Lux-Slovakia-Cro) – €205,000
Dir. Slobodan Maksimović
Defending Ongwen (Den-Ger) – €150,000, documentary
Dir. Lukasz Konopa, Emil Langballe
Deserts (Fr-Mor-Den-Bel) – €230,000
Dir. Faouzi Bensaïdi
Forever Hold Your Peace (Mont-Cze-Ser-Cro-N Mac) – €139,000
Dir. Ivan Marinović
Fortress (Bel-It-Neth-Bul) – €290,000
Dir. Jessica Woodworth
Kaymak (N Mac-Den-Bul) – €180,000
Dir. Milcho Manchevski
Land Of Sar (Fr-N Mac-Slovenia) – €69,000, documentary
Dir. Petra Seliškar
Ordinary Failures (Cze-Hun-It) – €250,000
Dir. Cristina Grosan
Piggy (Sp-Fr) – €225,000
Dir. Carlota Pereda
Queens (Fr-Mor-Bel-Neth) – €250,000
Dir. Yasmine Benkiran
Rebel (Bel-Lux-Fr) – €290,000
Dirs. Adil El Arbi, Bilall Fallah
Robot Dreams (Sp-Fr) – €410,000, animation
Dir. Pablo Berger
Roll (It-Bel) – €400,000
Dir. Loris Lai
Sick Of Myself (Nor-Swe) – €250,000
Dir. Kristoffer Borgli
Sisters (Lat-It) – €79,000
Dir. Linda Olte
Sticking Points (Bel-Neth) – €50,000, documentary
Dir. Flo Flamme
Tales Of The Hedgehog (Fr-Lux) – €430,000, animation
Dirs. Jean-Loup Felicioli, Alain Gagnol
The Antique (Geo-Rus-Cro) – €150,000
Dir. Rususan Glurjidze
The Most Precious Of Cargoes (Fr-Bel) – €470,000, animation
Dir. Michel Hazanavicius
The Store (Swe-It) – €300,000
Dir. Hanna Sköld
The Water (Switz-Sp-Fr) – €250,000
Dir. Elena López Riera
Time Out (Bel-Fr) – €300,000
Dir. Eve Duchemin
Tori And Lokita (Bel-Fr) – €375,000
Dirs. Jean-Pierre Dardenne, Luc Dardenne
Ways To Run (Neth-Can) – €80,000
Dir. Aboozar Amini