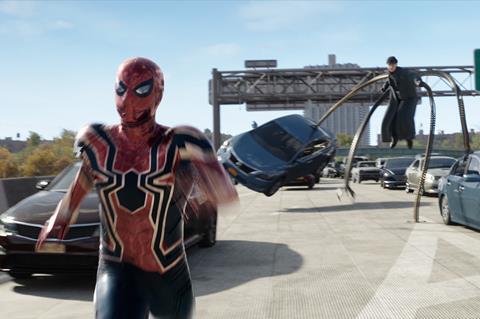 European cinema admissions increased year-on-year by an estimated 38% in 2021, with over 590 million visits across the region, according to the International Union of Cinemas (UNIC), the body representing European cinema trade associations and operators.
Box office reached an estimated €3.7bn, an increase of 42% on the previous year, across the 39 European territories covered by UNIC.
Brussels-based UNIC said the figures "illustrate the industry's resilience and the eagerness of European audiences to return to the Big Screen" in the wake of the pandemic.
At EU level – including the UK – over 400 million tickets were sold in cinemas in 28 countries, worth an estimated €2.9bn at the box office.
The figures cover a period when most screens across the region were shut for the first half of the year and operating for the following six months under limited occupancy and additional restrictions.
Compared to results for Europe in 2019, admissions for 2021 lagged 56% behind, while box office was down by an estimated 57%.
Comparing results for the second half of 2019 with the same period in 2021, box office revenues for the territories where data is available were on average 35 per cent below pre-pandemic levels.
However, major territories such as France (-22% for H2 2021 compared to H2 2019), the UK (-26%), Russia (-29.5%) or Poland (-24.3%) performed relatively strongly.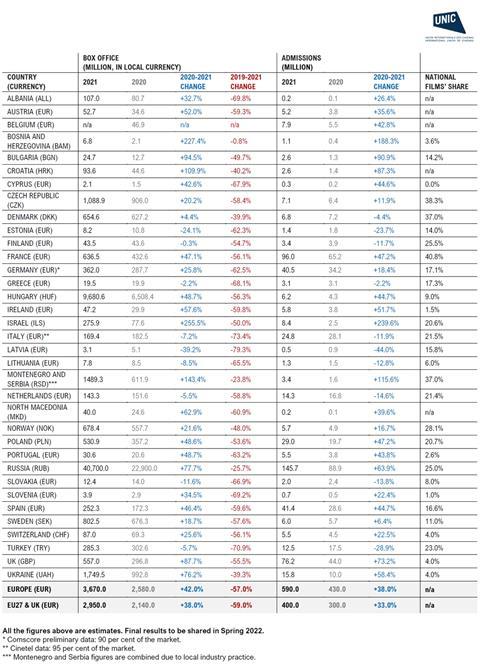 Box office was mainly driven by major international titles including Spider-Man: No Way Home, No Time To Die, F9: The Fast Saga, Venom: Let There Be Carnage and Dune.
UNIC said local titles have also played a key role in the recovery process. National films' market shares were higher than normal years across the region, most impressively in France (40.8 percent), Czech Republic (38.3 percent) and Denmark (37.0 percent). The Serbian biopic Toma managed to outperform Spider-Man: No Way Home, dominating at the box office in Serbia and neighboring Bosnia and Herzegovina.
However, territories such as the UK, Ukraine and Switzerland lagged, with national films' recording a mere 4 percent market share. Ireland's market share for national films was 1.5 percent.
UNIC said the broad range of support mechanisms that have been made available to the sector in Europe have also been crucial, protecting livelihoods and covering some of the significant losses incurred by industry. "Now is not the time for policy makers to ease those efforts aimed at ensuring the survival of local cinemas, whatever their size and location," said UNIC in a statement.
The UNIC figures are based on initial estimates, and more detailed final data on the performance of each individual UNIC territory will be released later in Spring 2022.