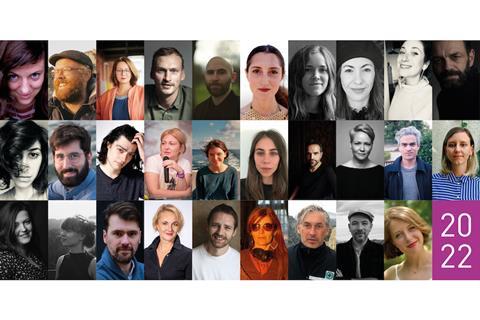 European development programme Less Is More (LIM) has selected 16 feature film projects for its 2022 scheme, plus the 12 'development angels' who will follow the development of the projects, and four tutors who will provide guidance to the selected teams.
Among the titles are Bethan, the debut feature of UK writer-director Zillah Bowes; and Deborah Viegas' Brazilian-Portuguese debut feature Young Woman Seen From Behind.
Scroll down for the full list of projects, filmmakers and development angels
Eleven of the 16 films are from debut filmmakers, with four from second-time directors and one – Christian Volckman's Herself – from a third-time filmmaker.
Bowes is a graduate of the UK's National Film and Television School, and won a John Brabourne Award from the Film and TV Charity in 2020. Her credits include co-director on Life In A Day, the 2011 documentary project from Scottish filmmaker Kevin Macdonald, that showed life from the perspective of thousands of different clips on July 24, 2010. She has also worked as a cinematographer on 2013 Sheffield Doc/Fest title Mirage Men, and has directed shorts including Staying (Aros Mae) and Allowed.
French director Vincent Mael Cardona participates in LIM with The Dancing Plague. Cardona won second prize from the Cannes Cinefondation in 2010 with Cloud-Cuckoo-Land, his graduation film from La Femis film school in Paris.
Israeli director Nitzan Rozen's debut feature Striker No. 7 is about a young boy from East Jerusalem who becomes the first Palestinian to play for Beitar Jerusalem, the best club in the Israeli football league. Rozen is a 2017 graduate of Jerusalem's Sam Spiegel Film School, and has made shorts including 2020's Fata Morgana, which debuted at FNC Montreal.
The development angels include Ukrainian-French executive Aleksandra Zakharchenko, who is head of programmes and training at both the Marché du Film and Ventana Sur Latin American Film Market, where she also runs industry events. Also selected is Cecilie Aspenes, who joined the Norwegian Film Institute as film commissioner for feature film and TV drama in 2021.
The four tutors are French director Lucile Hadzihalilovic, whose most recent feature Earwig won a special jury prize at San Sebastian 2021; French writer Romain Compingt, whose credits include co-writing and working as artistic collaborator on Houda Benyamina's Divines; UK writer Tony Grisoni, who has worked regularly with Terry Gilliam; and Danish executive Vinca Wiedemann, former director of The National Film School of Denmark.
"Fight like hell"
"With the dark context we are going through in Europe, we need to fight like hell to generate films that can help us wake up!" said Antoine Le Bos, artistic director of LIM.
The programme is open to projects at script development stage from first- to third-time filmmakers.
In September last year, Le Groupe Ouest – the French organisation which runs the programme – expanded the remit of LIM to include bigger-budget projects. It also adjusted the format to focus only on Europe-based directors and projects, where previously a handful of titles from the Middle East, Asia and North Africa had been included.
The 'development angels' are film professionals – creative producers, story editors, development executives and commissioning editors – who will work alongside the selected filmmakers to increase their knowledge of the development process.
LIM runs across eight months from March to October with three in-person sessions, including one at Le Groupe Ouest's headquarters in Brittany, western France.
The scheme is funded by the EU's Creative Europe – MEDIA Programme.
Less Is More 2022 selection
Bethan (UK) dir. Zillah Bowes
The Dancing Plague (Fr) dir. Vincent Mael Cardona
To Put Out One Fire (Switz) dir. Jela Hasler
Bog (Lat) dir. Reinis Kalvins
God, Rebuild Me (NZ-UK) dir. Isaac Knights-Washbourn
Assa, Like A Fish In A Bowl (Leb) dir. Dahlia Nemlich
The Author (Nor) dir. Fanny Ovesen
Dor (It) dir. Valeria Testagrossa, scr. Giulia Pietrozini
Identity (Kos-Neth) dir. Edon Rizvanolli
Striker No. 7 (Isr) dir. Nitzan Rozen
Those Who Fight (Switz) dir. Antoine Russbach
Sadhvi (Geo) dir. Sandro Souladze
A Miracle Will Happen (Rom) dir. Andreea Valean
Torpor (Bel) dir. Meltse Van Coillie
Young Woman Seen From Behind (Braz-Por) dir. Deborah Viegas
Herself (Fr) dir. Christian Volckman
Development angels
Cecilie Aspenes, film commissioner, Norwegian Film Institute, Norway
Andres Bartos, producer-director, Noon Films, Spain
Diana Caravia, producer, microFILM, Romania
Viktorija Cook, producer, Inscript; acquisitions consultant, Film Republic; programmer, Inconvenient Film Festival, Lithuania
Mirna Everhard, producer, Serendipity Films, Netherlands-Belgium
Harry Floter, producer, 2Pilots Filmproduction, Germany
James Heath, producer, Mallinson Television Productions, UK
Judith Lichtneckert, producer, Perron X, Switzerland
Jules Reinartz, producer, Films Grand Huit, France
Mira Staleva, festival & market managing director, Sofia International Film Festival, Bulgaria
Raymon van de Kaaij, producer, Revolver Amsterdam, Netherlands
Aleksandra Zakharchenko, head of programmes and training, Marché du Film & Ventana Sur Latin American Film Market, Ukraine-France