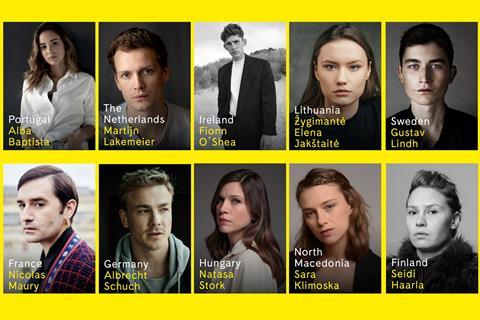 The 10 rising actors selected for this year's European Shooting Stars has been unveiled and will be showcased online for the first time as a result of the pandemic.
This year's selection comprise: Seidi Haarla (Finland); Nicolas Maury (France); Albrecht Schuch (Germany); Natasa Stork (Hungary); Fionn O'Shea (Ireland); Zygimante Elena Jakstaite (Lithuania); Martijn Lakemeijer (Netherlands); Sara Klimoska (North Macedonia); Alba Baptista (Portugal); and Gustav Lindh (Sweden).
European Film Promotion (EFP) usually provides a high-profile platform for emerging talent at the Berlinale, introducing young actors to international casting directors, producers and filmmakers at the festival.
But with the Berlinale shifting online and scaling back, due to the virus crisis, a three-day virtual platform has been devised for Shooting Stars that will run February 23-25, a week before industry events kick off at the festival. An awards ceremony for the stars will take place in the framework of the Berlinale's summer screenings in June.
The youngest actor in this year's cohort is Ireland's O'Shea, who was named a Screen International Star of Tomorrow in 2017. His recent credits include hit TV drama series Normal People and David Freyne-directed comedy Dating Amber, and O'Shea will next be seen in crime drama Cherry, directed by the Russo brothers and starring Tom Holland.
Germany's Schuch is best known for stand-out roles in Berlin Alexanderplatz, which played in Competition at last year's Berlinale, as well as Nora Fingscheidt's highly-acclaimed System Crasher and TV series Bad Banks. He was nominated as a Shooting Star for Fabian, Domink Graf's adaption of Erich Kästner's satirical novel of the same name, which is set for release in April.
France's Maury is the star and director of comedy-drama My Best Part, which received a Cannes 2020 label, but is perhaps best known internationally as one of the assistant characters in hit French TV series Call My Agent!.
Finland's Seidi Haarla was selected for her first leading performance in Juho Kuosmanen's upcoming drama Compartment No 6, while Hungary's Natasa Stork joins Shooting Stars following her debut lead role in Lili Horvit's Preparations To Be Together for an Unknown Period of Time.
Lithuanian newcomer Jakstaite will be seen playing the lead in Andrius Blazevicius' upcoming drama Runner; the Netherlands' Lakemeier is known for his role in hit TV series Dutch Hope; while North Macedonia's Klimoska will be seen in Igor Aleksov's upcoming feature debut Lena and Vladimir.
The selection is rounded out by Portugal's Baptista, star of Netflix fantasy series Warrior Nun, and Swedish actor Gustav Lindh, who won a Danish Bodil award for his performance in Sundance drama Queen Of Hearts and will next be seen in Anders Thomas Jensen's Riders Of Justice, starring Mads Mikkelsen.
The Shooting Stars jury comprised US casting director Cassandra Han, Kosovan director Antoneta Kastrati and Danish producer René Ezra.
The initiative, which has run since 1998, has previously showcased Matilda de Angelis, seen recently in hit HBO miniseries The Undoing, as well as Riz Ahmed, Alicia Vikander, George Mackay and Carey Mulligan among others.
Reimagined Berlinale
The format of the 71st Berlin International Film Festival has been reimagined due to the ongoing virus crisis. Instead of a physical event, which was scheduled to run February 11-21, this year's Berlinale will take place across two stages.
The first will include an online version of the European Film Market (EFM) from March 1-7, where industry will be presented with a programme of Competition titles and features from other strands. An international jury, which has yet to be announced, may also be present in Berlin to watch the films and select prize winners. The full line-up is set to be announced in February.
This will be followed by a celebratory public event in June for Berlin audiences, which will include highlights from the programme including the winners as well as an awards ceremony for the Shooting Stars.