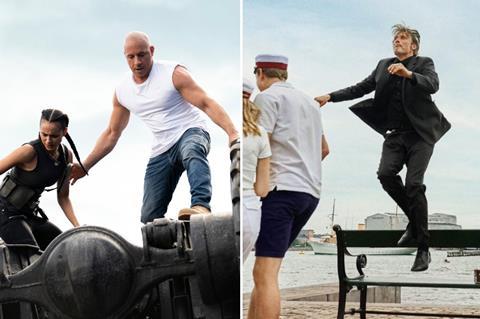 | | | | | |
| --- | --- | --- | --- | --- |
| Rank | Film (Distributor) | Three-day gross (July 2-4) | Total gross to date | Week |
| 1 | Fast And Furious 9 (Universal) | £2.6m | £10.8m | 2 |
| 2 | Peter Rabbit 2: The Runaway (Sony) | £830,560 | £17.4m | 7 |
| 3 | In The Heights (Warner Bros) | £466,156 | £3.3m | 3 |
| 4 | A Quiet Place Part II (Paramount) | £425,798 | £10.3m | 5 |
| 5 | Cruella (Disney) | £410,789 | £8.4m | 6 |
GBP to USD conversion rate: 1.39
Fast And Furious 9 comfortably held its lead at the UK and Ireland box office over the weekend (July 2-4) and will top £11m in the territory this week.
The latest instalment in Universal's action series added £2.68m on its second weekend, down 45% on its opening, to reach a total of £10.86m to date. It recorded an average of £4,403 from 611 locations.
It remained far ahead of the competition, with no other title topping £1m across the weekend. Saturday evening also saw more than 26 million people watch England's win over Ukraine in the Euro 2020 quarter-finals.
Universal also released Christopher Landon's body-swap horror-comedy Freaky, starring Kathryn Newton and Vince Vaughn, which had faced repeated delays due to the pandemic. The film ranked sixth overall on its opening weekend, taking £335,966 from 523 locations for an average of £644.
Studiocanal scored success with the release of Thomas Vinterberg's comedy-drama Another Round. The Oscar-winning Danish feature, starring Mads Mikkelsen, took £128,674 across the weekend and ranked ninth.
This may appear small beer compared to the studio blockbusters but this gross came from just 130 locations – the smallest roll-out by far of any film in the top 10. With a cume of £205,266, including previews, this marks a location average of £1,579 – more than any other film across the weekend with the exception of Fast 9.
Studiocanal also has Harry Macqueen's Supernova on release, which took £89,721 from 376 locations on its second outing, down 63% on its opening weekend. It is now up to £510,363.
Back up top, Peter Rabbit 2: The Runaway held second place and continued to perform strongly for Sony, holding its takings exactly on its seventh session with £830,560 and £17.4m cume from 627 locations. It remains the highest-grossing film in the territory since cinemas were allowed to reopen in the UK on May 17, while understandably still far short of the £41.1m of first film in 2018 due to pandemic restrictions – due to be lifted on July 19.
John Chu's New York-set musical In The Heights dropped 32% on its third weekend with £466,156 and £3.31m cume from 621 locations.
Paramount's A Quiet Place Part II also held its position in the chart on its fifth weekend, falling 29% with £425,798 for fourth place in the chart and £10.37m total. It is closing on the £12.2m taken by the first film in 2018.
Rounding out the top five was Disney's Cruella, which only dipped 11% on its sixth session, taking £410,789 from 568 locations to record an £8.44m cume. The studio also continued to play Raya And The Last Dragon, which was up 35% on its seventh outing, taking £37,276 for a cume of £755,615. Also on its seventh week, Oscar-winner Nomadland took £16,263 and passed a milestone, reaching a cume of £2.04m.
For Lionsgate, The Hitman's Wife's Bodyguard dropped 33% on its third weekend to £300,050, and has £3.19m total (the first film took £7.3m). The distributor also has Oscar winner The Father, which dropped 49% with £68,877 bringing it to £1.8m total.
Warner Bros also had The Conjuring: The Devil Made Me Do It, which added £227,763 – a drop of 24% - on its sixth session, and is now up to £8.83m. It will fall slightly short of the £10.5m and £11m made by the first two Conjuring films, which were not impeded by social distancing measures. Tom & Jerry The Movie added £66,068 and has £966,180 after 12 outings while Godzilla Vs. Kong added £18,879 and has £2.63m total, also after 12 sessions.
Also newly released over the weekend was Signature Entertainment's Australian animation Daisy Quokka: World's Scariest Animal. Directed by Ricard Cussó with a voice cast including Angourie Rice and Sam Neill, the film took £52,780 from 376 locations on its opening weekend.
It was topped by Altitude's animated release Dogtanian And The Three Muskehounds, which added £77,792 from 470 locations on its second outing for a £319,391 cume.
Further new releases included Sony's Azazel Jacobs' comedy French Exit, starring Michelle Pfeiffer and Lucas Hedges, which took £14,677 from 124 locations – a £125 average.
National Amusements released Taichi Ishidate's anime Violet Evergarden: The Movie, which took £27,532 from 98 locations and a £51,492 cume.
Modern Films opened documentary Lady Boss: The Jackie Collins Story in eight locations, taking £9,228 including an event screening on Thursday. With previews, the cume stands at £12,218 after the first weekend.
Doc 'N' Roll Films released Mark Archer's music documentary Don't Go Gentle: A Film About IDLES in 35 locations, about the Bristol punk band and its place in the socio-political environment. It took £5,500 over the weekend and has an £11,074 cume.